Hot Cross Buns - Camp Style!
Hot cross buns..... hot cross buns...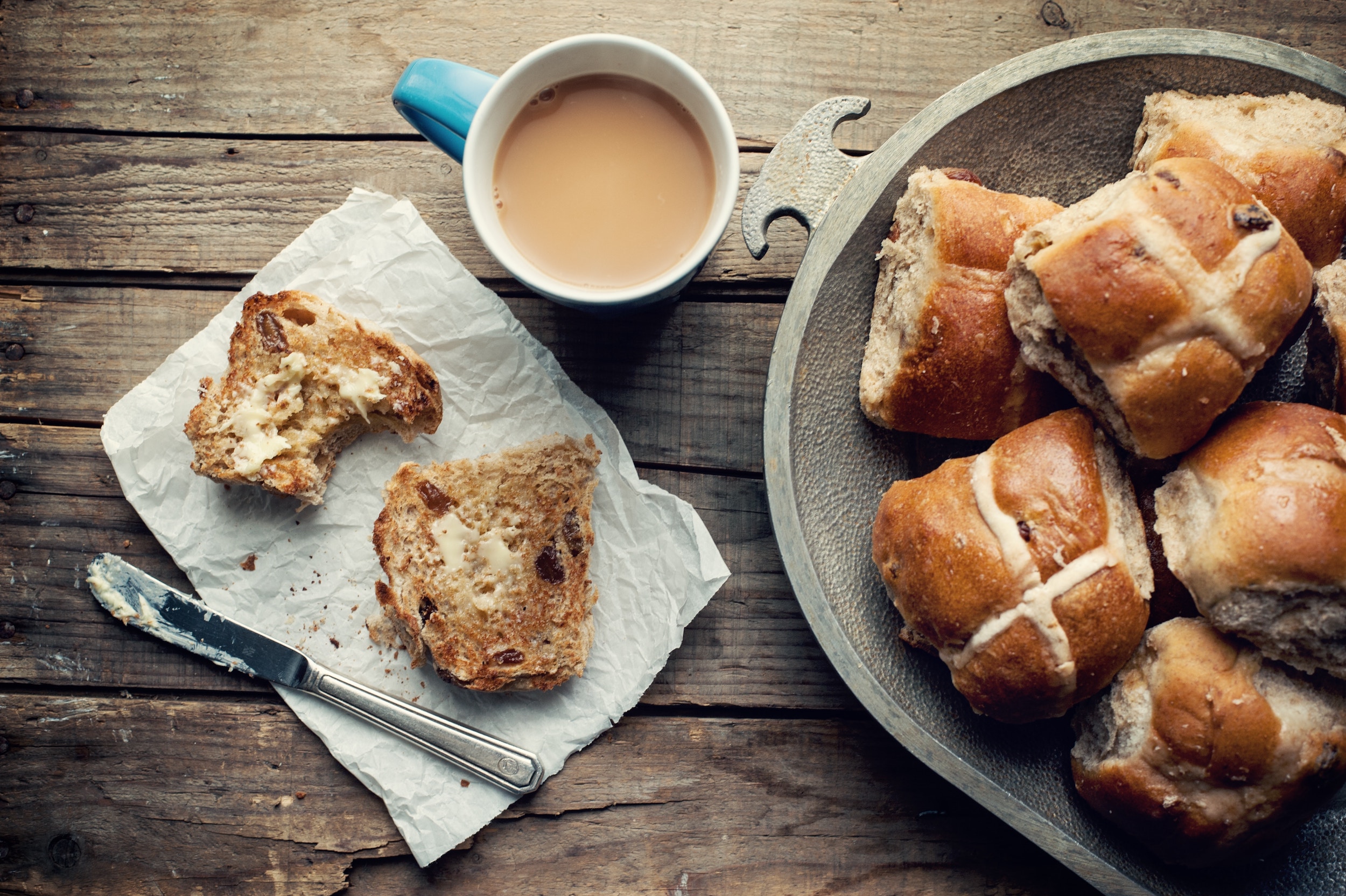 Most people celebrate Easter with not only Easter eggs, but also hot cross buns! They can make a delicious breakfast or a perfect snack and are very popular in the lead up and over Easter!
Here, we have the best finger licking recipe for you! Bake your own hot cross buns whilst camping! All you need is a Cast Iron cooking pot!
Ingredients:
Buns:
310ml warm milk (approx 43 degrees
60g caster sugar
2 (4tsp) sachets dried yeast
600g plain flour
1tsp salt
1 1/2tsp cinnamon 
1tsp allspice
1/2tsp nutmeg
60g butter
1 1/2 cups of raisins or sultanas 
2 eggs
Cross:
60g plain flour
60ml water
2tbsp apricot jam (warmed and strained)
Method:
Buns:
In a bowl, whisk together the milk, sugar and yeast until the sugar has dissolved. Cover and set aside until the yeast has activated and the mixture has become frothy. Set aside for approx 10 - 15 minutes.
Sift the flour, salt, cinnamon, allspice and nutmeg into a large bowl. With your fingers rub in the butter until the result looks like fine breadcrumbs.
Combine the raisins, eggs and yeast mixture into the flour mixture.
On a lightly floured surface, knead the dough for about 5 minutes until smooth and elastic. Add the dough to a large, slightly creased bowl then cover with plastic wrap. Leave in a warm place for 45 minutes or until the dough has doubled in size.
Remove the risen dough from the bowl, slightly knead and divide into 12 balls (these will become the hot cross buns).
Place the balls onto a greased tray, cover, then leave in a warm place while you heat up your cast iron cooking pot. 
Preheat the cooking pot to 200 degrees, then add the dough balls.
Cross:
Whisk together the flour and water to a smooth paste. Place the mixture in a disposable snap-lock bag and cut off the tip (this will become your DIY piping bag). Using the bag, pipe a cross on the top of each bun.
Bake the buns in the cooking pot for 25 minutes, or until cooked through.
Once cooked. Remove the buns from the cooking pot and brush with the warmed apricot jam.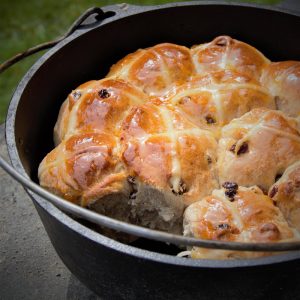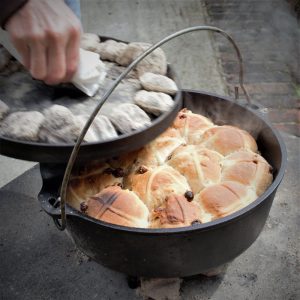 We want to see your camp cooking creations, send us your photos to stories@www.tweedholidayparks.com.au for your chance to be featured in next months newsletter.
Credit: https://goo.gl/yDhuQQ