Camping and Caravan Hacks
If there is one thing we love... it is camping hacks! There is nothing better than making camping/caravanning life easier... especially when far away from home.
We've searched high and low to share with you our top hacks that you need to try on your next getaway.
Fill and freeze

This effective hack is a great way to reuse plastic bottles, which in the lead up to your holiday, will be an easy item to collect. We all have ice bricks in the freezer that go in our/kids lunch boxes, but often when packing for a trip – there aren't enough frozen bricks needed to fill the camp esky.
Instead of buying more ice bricks or a bag of ice on your holiday, plan ahead and choose to reuse plastic bottles e.g. milk or juice bottles. Simply clean out the bottle, fill it with water and freeze, ready for your next trip.
The great thing about this hack is that these DIY ice bricks can be filled and frozen specifically for your camping holiday, once your trip is over, empty the bottle by watering the garden or drinking the cold water and then stow away with your camping gear... ready for the next trip.
DIY light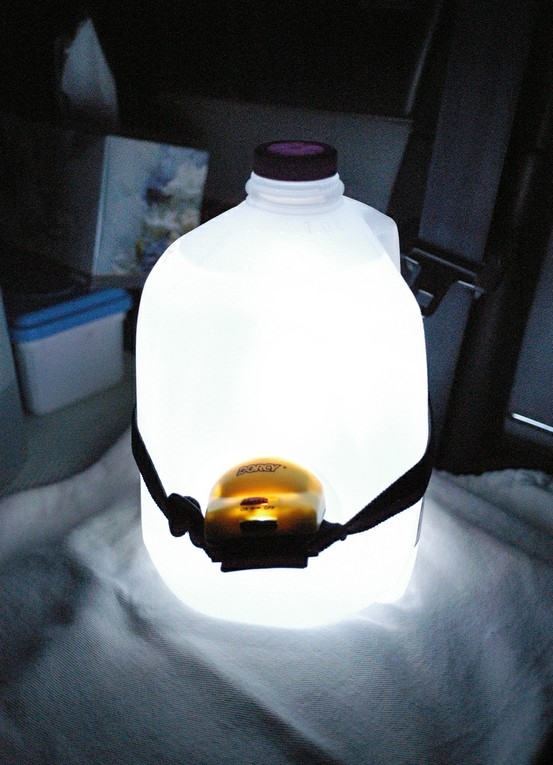 The majority of us always forget to bring something when we go away camping and it can be extra frustrating when that something is a lantern!

But don't worry, we have the perfect hack for you - to make a DIY lantern, simply fill a clean 3-litre milk bottle with water and strap your headlamp torch with the light facing inwards towards the bottle. By doing so, this creates a bright light that is portable and can be used for various tasks at night such as, cooking dinner, reading a book, playing a board game etc.
So many spices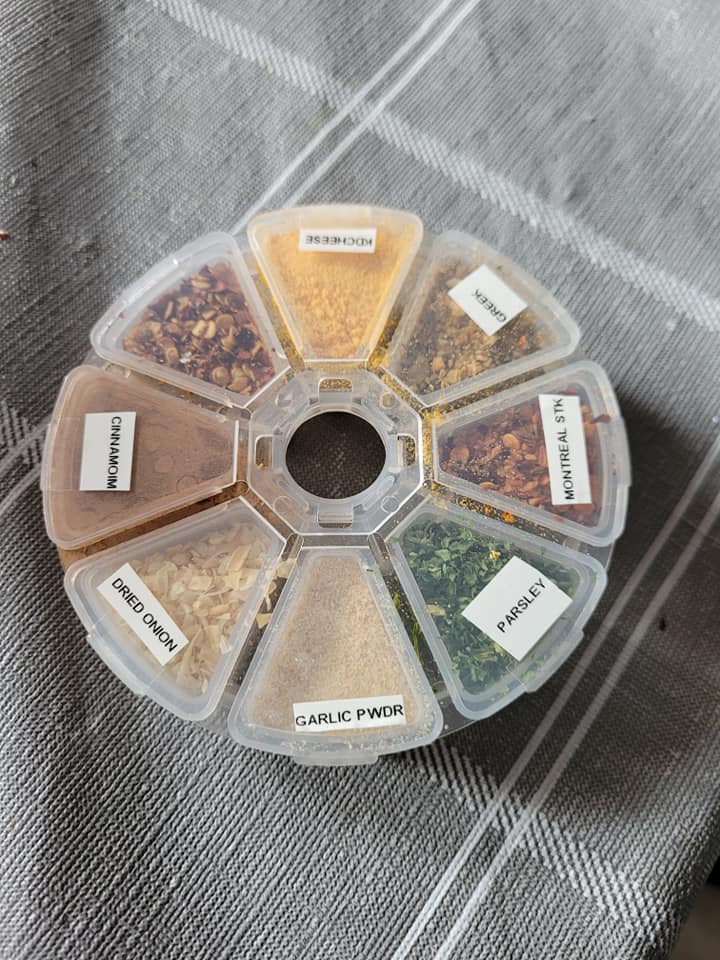 Instead of purchasing packets of spices whilst on holiday from the local supermarket, plan ahead and purchase a pillbox from your local chemist and fill it with different spices that you already have in your spice cupboard, that way you are always prepared. As a bonus, keeping spices in an airtight container will ensure they stay nice and fresh - this means that they can be kept in your camping box ready for the next trip.
Pack the essentials
We've all done it! Packed up the car, arrived at your holiday destination to realise you have forgotten something... something important, like mozzie spray, or sun cream. Your relaxing holiday is now on hold until you find a nearby store that stocks your missing item/s.
To ensure your next holiday and the ones after that goes off without a hitch – simply pack yourself an essential camping box. This box can include those items you often forget or items that you need once in a blue moon, such as; duct tape, torches, a multi-tool, a first aid kit etc.
DIY coffee bags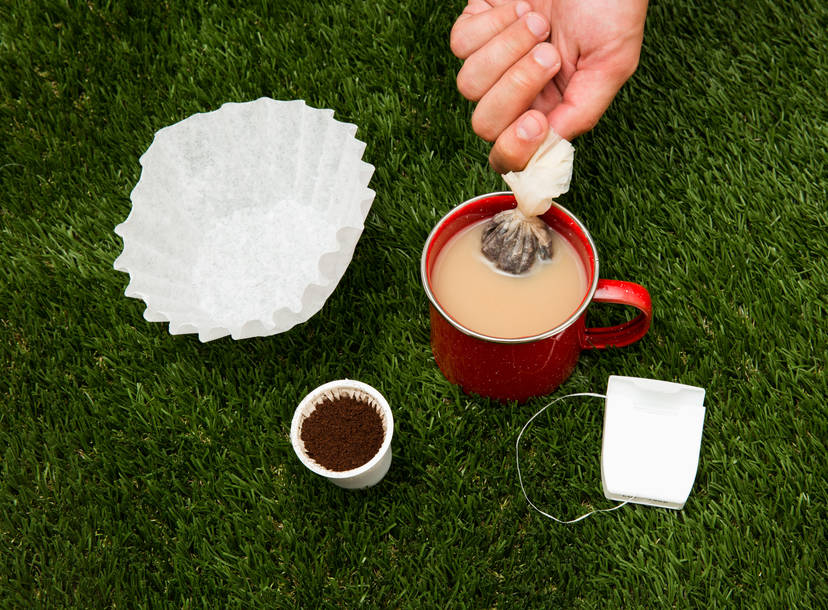 If you are anything like us, we love a cup of coffee... especially in the morning! Make getting out of bed and your first cup of the day as easy as possible by being savvy and making your own coffee pods. These pods are really easy to make and by making them can help minimise the space it takes up and guarantees that the jar is not broken by the time you get to your destination.
Simply purchase some coffee filters from your local supermarket, fill them with ground coffee and tie a knot with some twine to secure the pod. When you are ready for your cup of coffee, simply place the pod in your coffee cup, pour hot water and let the coffee pod brew as long as required.
Watch out!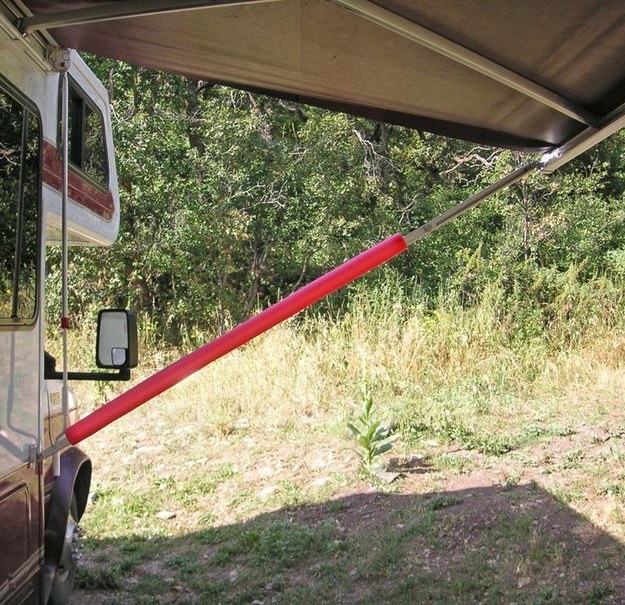 If you own a caravan or motorhome, there is a high chance that your home on wheels has an extendable awning that provides shelter from the Australian elements.
In the daytime, it is easy to spot the struts that extend out from the side of your vehicle to the edge of the awning – however, as soon as nightfall comes – these struts blend in with the darkness and can become a hazard – if this is something you know all too well.... then this is the hack for you!
An easy way to make these struts more noticeable and provide a protective barrier is by slitting a foam swimming noodle lengthwise and slipping over the awning strut – by doing so, they are easy to spot in the day and you would be less likely to bump into them in the dark... if you do bump into them – at least they would be padded.
Light the way
If you liked our awnings hack, but you are a camper – then you will love this hack! As a camper, you know too well that heading to the amenities in the dark can be a challenging task – especially at night as the guy ropes that help your tent stay up becomes invisible, especially if you are not camping near the 'in-park' street lamps.
On your next getaway, mark your guy ropes with solar-powered stakes which can be purchased from your local Bunnings/hardware store and use them to mark out where your guy ropes are. This subtle light will be bright enough for you to see your guy ropes at night, but not bright enough to keep you awake – win-win.
Image credit:
DIY Light: Brownie meeting ideas
Spices: Shawn Talbot
Coffee: Thrillist.com
Awning hack: Andybaird.com