Beachfront Camping on the Tweed Coast
With the tail end of winter racing to a close, the promise of springtime is in the air. As we begin to emerge from our hibernation, beachfront camping on the Tweed Coast feels less like a far-off dream and more like a reality to begin planning. There is just something about a coastal holiday that is the ultimate reset button. Maybe it's the rhythmic sound of the waves lapping at the shore that provide a calming soundtrack to your holiday or perhaps it's filling your lungs with fresh air, whatever the cause the beach undeniably inspires you to enjoy a simple and relaxing break outdoors.
Pottsville South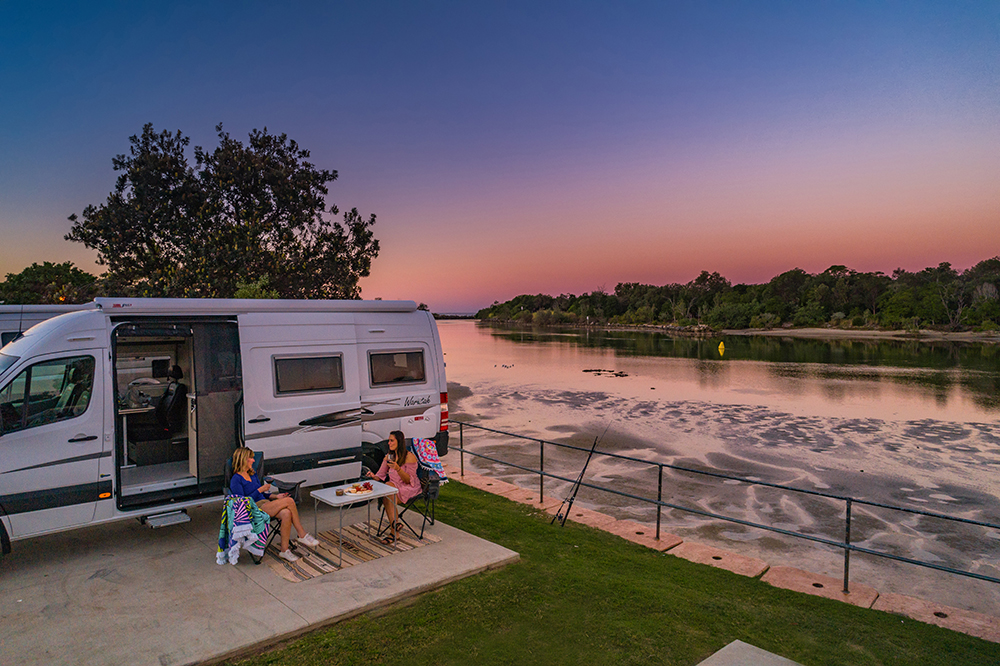 From the humble tent to beautifully decorated cabins and everything with four wheels in between, Tweed Holiday Parks Pottsville South is classic waterfront camping at its finest. Running adjacent to the tidal Mooball Creek, the park is as close as you can get to the water without getting your hair wet. Our Osprey and Pelican cabins are fully equipped with full-sized kitchens, linen on all the beds and air-conditioning so all you need to do is hop in the car and head our way. From the covered deck, there are uninterrupted views of the creek and a flat grassed area where the kids can play under your watchful eye. The township of Pottsville is only a short stroll from the park and is flush with cafes, restaurants and a great playground. Phillip Street Reserve is located directly behind the park where markets are held on Sundays. Shop for local produce and enjoy cooking up a feast in the camp kitchen or on the park barbeques. The tidal creek is an optimal spot to launch kayaks and stand-up paddleboards or just float around and enjoy the weightlessness of the warm salty water.
Hastings Point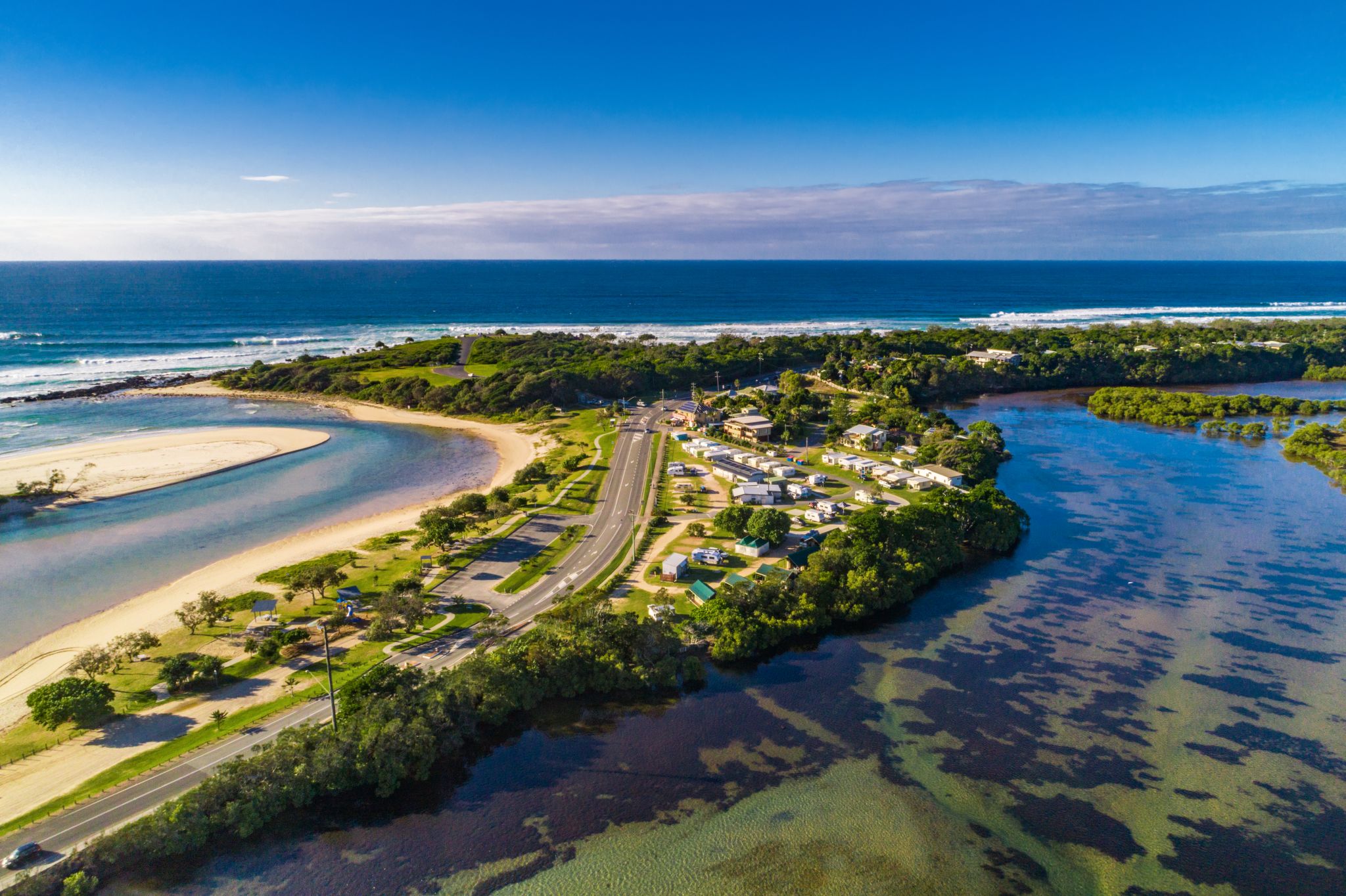 Tweed Holiday Parks Hastings Point will take you back to your childhood memories of camping by the water, fishing and building sandcastles. Cudgera Creek and the river mouth close by providing a tidal lagoon-style place to swim, stand up paddleboard and kayak. There is easy access to the creek and white sandy beaches via a walkway direct from the park. Those who love to cast a line can make their way upstream and try their luck amongst the mangroves, to the river mouth for beach fishing or to the headland for rock fishing with spectacular views. Tweed Holiday Parks Hastings Point is great for all styles of camping with water view tourist sites by the creek and simplistic camping on the stunning headland open in school holiday periods. For those with none of the gear but all of the ideas, our surfari tents are fully equipped with queen beds, single bunks, ensuites and some kitchen facilities but still offer the look and feel of the camping experience. Hastings point is more secluded than other parks in the area, offering that feeling of 'back to basics' while being conveniently located less than ten minutes north of Pottsville and five minutes south of Cabarita.
Kingscliff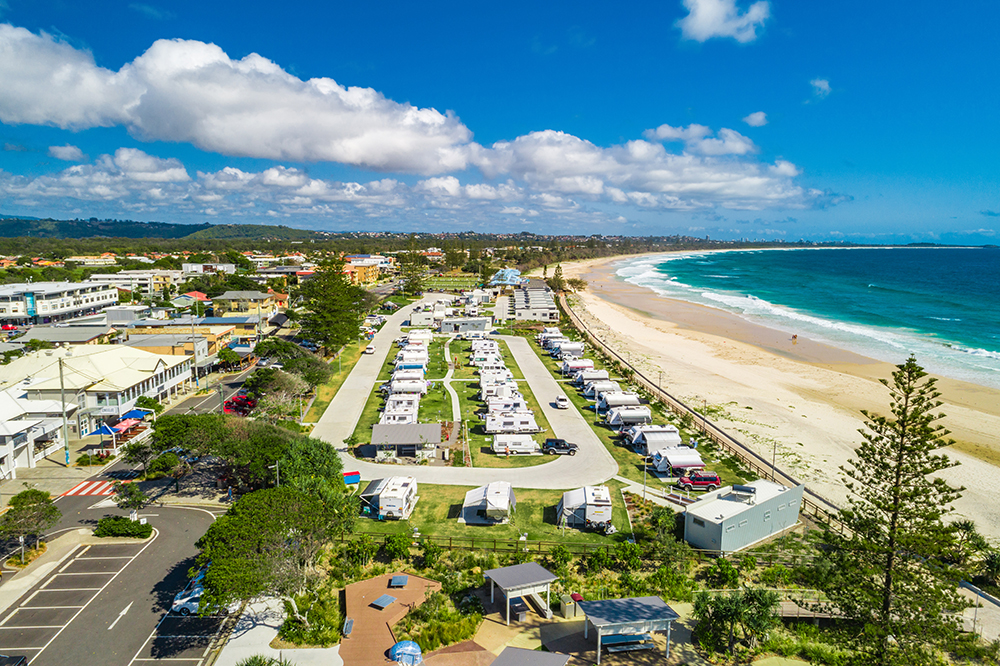 Kingscliff is the perfect base for those who would like a mix of beachfront holidays, café hopping and touring the region. The beautiful beaches and river are ideal for surfers and keen fisherman to get out and enjoy the salty breeze.
Tweed Holiday Parks Kingscliff Beach is the perfect spot for those travelling in larger groups or with families, but still crave affordable beachfront accommodation. Two and three bedroom ocean cabins are available with breathtaking ocean views, fully equipped kitchens and stylish decorating. You will have all of the comforts of home but can wake up to sunrise over the ocean. There is a fully accessible ocean view cabin available that sleeps up to four guests and is located directly beside board walk access to the beach or town. There are plenty of beachfront tourist sites for those who are travelling with caravans and motor homes as well. Tweed Holiday Parks Kingscliff Beach is situated between the Kingscliff Bowling Club and Cudgen Head Surf Lifesaving Club with footpaths and boardwalk access to everything the town has to offer. There are parks, a cinema, a supermarket and the famous Kingscliff Beach Hotel all within a few minutes' walk of the park. Bike hire is available within the park to let you fully explore the town or forego it all and just enjoy the vast expanse of uncrowded beach that feels as though it stretches on forever.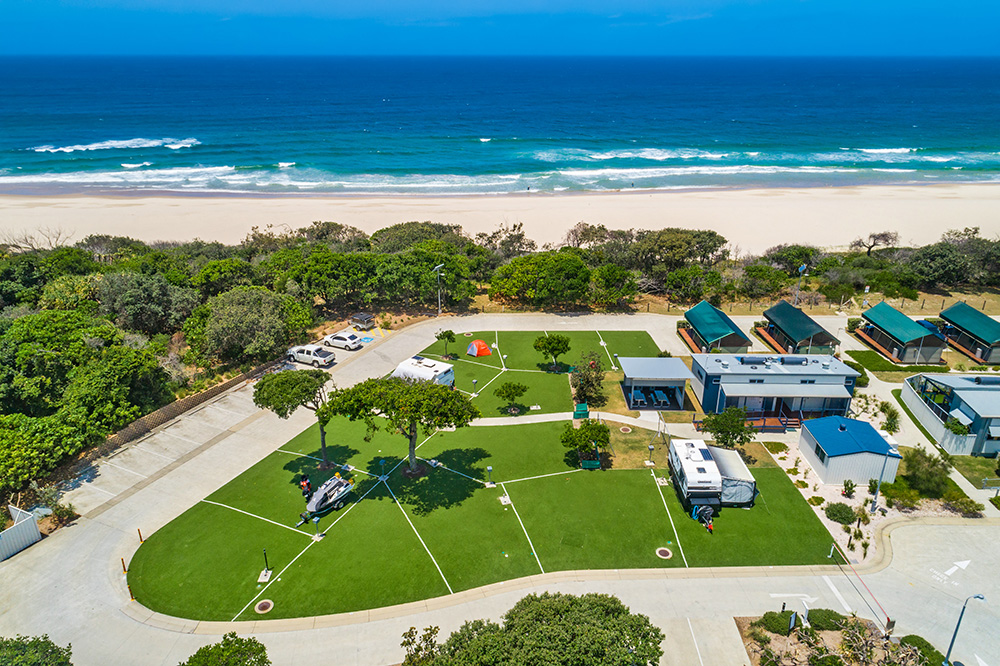 For those with visions of rolling out of the tent and checking the surf Tweed Holiday Parks Kingscliff North has multiple powered camp sites just a short stroll from beach access. The park is surrounded by established trees and gardens, is beautifully maintained and quiet despite being such a close proximity to town. There are tourist sites and cabins available as well as luxe surfari tents for those who might be travelling for a special occasion.
Fingal Head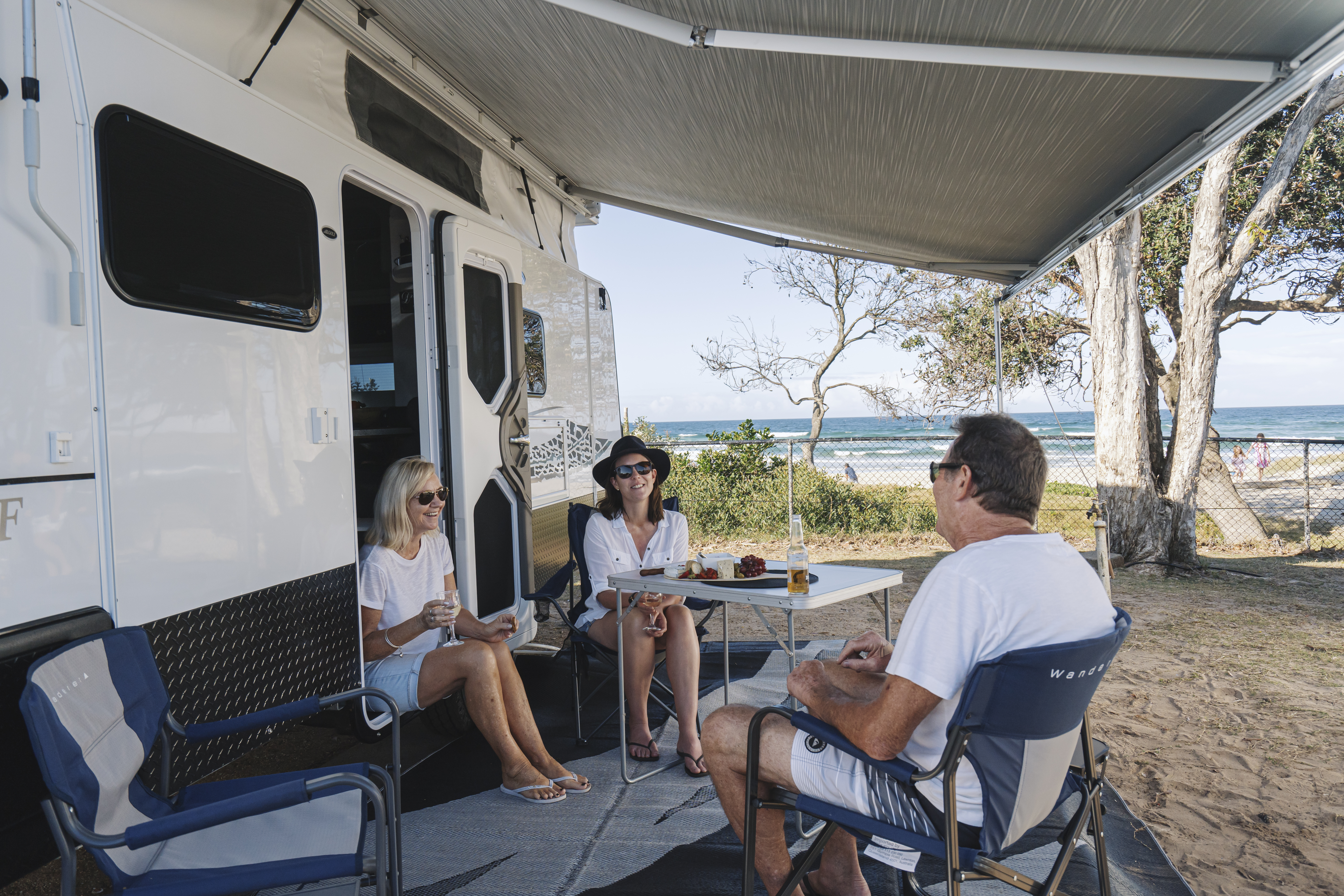 When you think of a beachside holiday does your mind immediately give you visions of lighthouses, rugged coastlines and surfing? Then Tweed Holiday Parks Fingal Head is for you. Roll over and check the surf from bed or sip your morning coffee on the covered decks of our Letitia, Island and Endeavour cabins. Staying in the cabins lets you live out your dreams of owning a slice of beachfront real estate without the mortgage and maintenance, now that is truly relaxing! The holiday park also offers spacious tourist sites ideal for caravans, motorhomes, camper trailers and 5th wheelers, all equipped with a concrete pad, individual power, water and sullage plus powered beachfront tent sites. Step out of the park and onto the sands of Fingal Beach where you can either relax and read your book or continue for a walk along the pandanus covered headland, past the lighthouse to the rockpools. Stop and explore their crystal-clear water or continue on to check the surf at Dream Time Beach. Tweed Holiday Parks Fingal Head gives you a chance to relax and unwind with a slow-paced escape while being conveniently located just ten minutes south of all of the conveniences of Tweed Heads.
So, what are you waiting for? Grab a good book, throw the camping gear in the car and don't forget your camera. A beachside holiday to the Tweed Coast is the perfect place to create some new favourite memories.