What's on - our holiday top picks!
Have you made plans for the last few weeks of the school summer holidays?
Here are our top picks to make the remaining holidays a memorable one!
Our top picks are:
Why go for a swim when you can go for a splash! GC AQUAPARK is one of the largest aqua parks with over 300m of inflatables! With watchful lifesavers at the ready and compulsory lifejackets, this activity is not only super fun and challenging, but it is also safe and secure. Bookings are essential, head over to their website today to book your tickets.
O'Reilly's Tree Top Walk
Nestled high within World Heritage-listed Lamington National Park, discover O'Reilly's Tree Top walk, the world's first suspension bridge, stroll along nine suspension bridges for 180 metres at approximately 15 metres above the rainforest floor. If this wasn't high enough for you¦ Climb up to the two observation decks constructed high in a stranger fig " the highest one being 30 metres high above the ground!
This sounds like a great adventure for a family fun day out! This activity is free and located at Canungra, Scenic Rim Area.

Currumbin Rock Pools
The Currumbin Rock Pools are a stretch of smooth sloping rocks, large boulders and pebbled pathways all rested within fresh mountain waters, both deep and shallow.
At one of the Currumbin Rock Pools is a small fast-moving waterfall running over smooth rocks, which helps create a natural waterside (popular with the kids) with a shallow pool at the bottom. On the other side, there is a popular spot for thrill seekers to climb up the rocks and jump into the swimming hole. (Caution is advised as it is very difficult to gauge water depth)
Downstream, the water gets quite deep as it leads to the large swimming hole. The bank has a gradual dirt entry which gets deep quickly (so be careful).
Pack a picnic as there are several gazebos with picnic tables and BBQ facilities as well as a large grassed area (perfect for a picnic and a family game of cricket).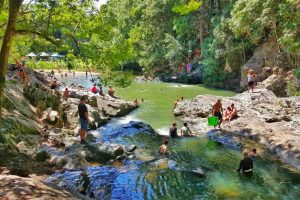 Currumbin Rock Pools are located 12km away from Currumbin beach, although the route is well signposted, you may drive straight past it. The rock pools are down in a valley, if it wasn't for locals cars on the side of the road, you might miss the sign.
Photo credit: blog.queensland.com
Natural Bridge & Glow Worms, Springbrook National Park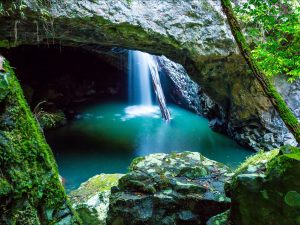 There are many great walks and adventures to be had at Springbrook National Park, our favourite is the Natural Bridge walk. This walk is perfect if you have young children as it is only a 1.5 kilometre walking track.
The park's Natural Bridge section features a picturesque rock formation, formed by the force of the waterfall over the basalt cave. Start the walk by going clockwise and descend through the ancient Gondwana rainforest to the natural bridge rock arch. Enter the cave to stand behind the waterfall and try and spot the glow worms! (these are better seen at night, look into the nocturnal guided tour).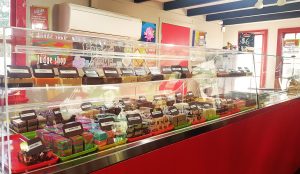 If you are feeling like something sweet after your walk, head down to The Fudge Shop (3 Lyrebird Ridge Rd, Springbrook) for some amazing freshly made fudge! The hardest decision will be choosing the flavour! They also have coffee, ice cream, soaps, jams, candles and more, the perfect souvenir shop to shop for those at home!
Photo credit: queensland.com australiangeographic.com.au thehamsterball.com