Your holiday home on the coast, all year-round!
Have you got cabin fever? Then, break up with your doona and enter a loving relationship with Winter in our Tweed Holiday Parks cabins! We are your holiday home on the coast, all year-round. Check out our top cabins below!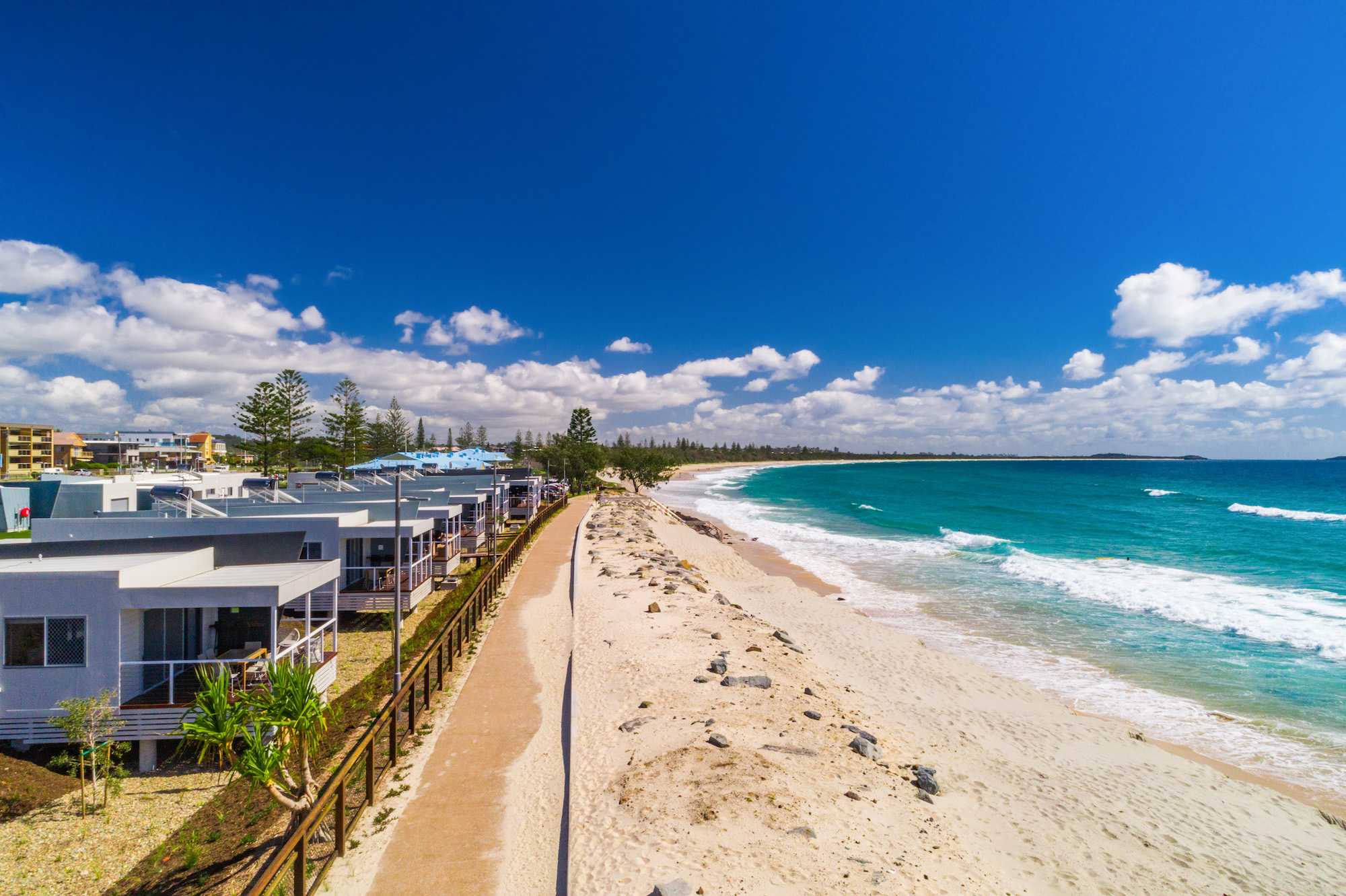 The Tweed Coast is famous for its year-round temperate climate, it's pristine beauty and all the stunning beaches and waterways the Tweed Coast has to offer, as well as the sunny weather that often accompanies our guests on their holidays. But, what do you do when the weather starts to cool down during the winter months? We suggest... booking yourself a winter getaway in one of our stunning and modern luxury cabins!
Read more on how we keep warm during the cooler months and why Tweed Holiday Parks is the perfect choice for that Winter getaway you are craving!
Each of our luxury cabins has been carefully designed by design gurus Tailored Space Interiors, the interior of the cabins are based on their coastal surroundings and boasts a chic and modern look that complements the natural feel of Tweed Holiday Parks. The recurring use of natural textures, crisp whites, timber accents and nautical accessories throughout the cabins creates a relaxed seaside ambience. Each cabin has comfy beds, a fully equipped kitchen, an open plan living and dining area and a fully equipped bathroom. What more could you need? An outdoor area? Well, all of our cabins have a private, sheltered decking area along with outdoor furniture to relax on.
Warm up after an adventurous day of exploring by kicking back and switching the air conditioner onto heat, available in all of our cabins! Get nice and toasty, whilst relaxing on our premium couches, watch programs on our Smart TV's and if you have an account with Netflix or Stan, you can access these accounts whilst using our complimentary WIFI! As a bonus, our park cabin rates are lower in the off-peak season (Winter)...
Still in need of more reasons to book a winter getaway with us? Well, we will just let our cabin & park pictures do the talking...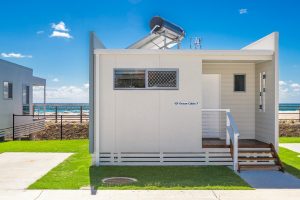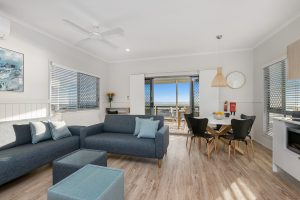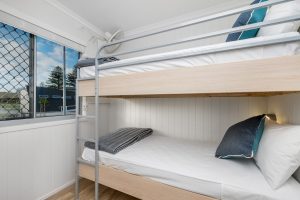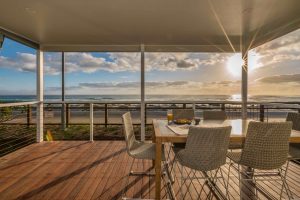 Our famous Kingscliff Beach Ocean Cabins are located right on the beach front... With uninterrupted views of Kingscliff Beach, it is easy to see why these cabins are a favourite with our guests, so much so, these cabins can be booked out months in advance!
Not only are our Cabins equipped with Smart Tv's and DVD players, but there is also a Tv room in our camp kitchen, where guests can kick back and enjoy watching television, there are also shelving inside stocked with popular board games for all guests to enjoy!
There are many cafes in Kingscliff for a winter warmer! Our favourites are The SALT MILL for a cosy cup of coffee, yummy raw cakes and beautiful goods available for purchase, where you can find the perfect gift for that person that never wants anything! Less than 5 minutes down the road is Chinderah, where you will find Cubby Bakehouse, which overlooks the Tweed River and has some amazing, delicious food! But we don't need to tell you that! Just look at the pictures on their website! From avo on toast with prosciutto on the side to cream bun eclairs with a churro type casing! (Yes you heard us correctly).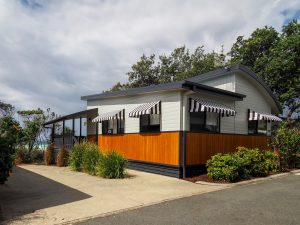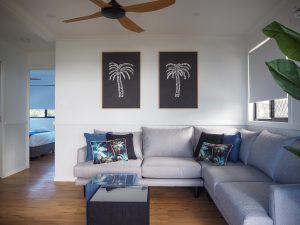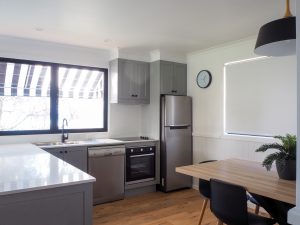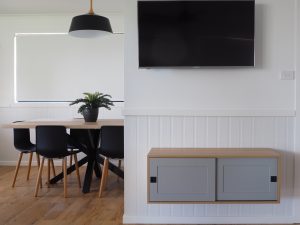 Our new Letitia Cabins are proving to be very popular with our guests and it is easy to see why! These cabins were recently refurbished and are the newest refurbishments made by the Tweed Holiday Parks team. These two bedroom cabins have a spacious living area with an L-shaped lounge to sit back and relax on whilst taking in breathtaking views of Fingal Head Beach or for snuggling up under the heat from the air-con, whilst watching Netflix and of course...chilling. If these are booked out, we also have our recently refurbished Island Cabins, which have spectacular ocean views!
For the outdoorsy side of you, keep warm this winter with a short hike up to the Fingal Head Lighthouse, the entrance to this reserve is located just down the road, (ask our friendly reception staff for directions, if you get stuck). This hour scenic return walk covers a flat, sandy track shaded by pandanas palms, with scenic views along the way. While exploring the headland check out the operational Fingal Head Lighthouse and unique rock formations appearing at the base of the headland, these interesting crescent-shaped hexagonal columns, known as theGiant's Causeway' are made of lava that cooled as it entered the ocean.
Afterwards, treat yourself to a hot chocolate at the Fingal General Store, or make your own, by following our chilli chocolate recipe (You won't be disappointed!).
Click here to book your Fingal Head winter getaway.
Did you hear Tweed Heads underwent a 4-month long refurbishment recently? This project was a $1.5 million refurbishment, which resulted in eight new relocatable waterfront cabins, one of which is an accessible cabin and the renovation of two pre-existing cabins. It is easy to see why guests are raving about our new additions. These cabins not only have a stylish interior, but they also have a private deck, with outdoor furniture, overlooking Terranora Creek, relax with your red wine and watch a winter sunset, all from the comfort of your cabin. Just like the other cabins in our sister parks, our cabin is fully equipped with a Smart TV, air-conditioner and a comfy lounge, everything you need to create a cosy night in whilst on holiday.
During the day, warm the kids up by playing in our playground, where lots of adventures are to be had, whilst the adults warm up on the outdoor gym, then take a dip in our year-round temperature controlled swimming pool... for extra fun - take a wild ride down our waterslide! Whilst the sun is out, have a fish off our in-park boat ramp, catch something for dinner and cook it up on one of our many cooking facilities - the new waterfront barbeque facility being our favourite! Not only is it waterside, but also has one of the best sunset views in the park.
To warm up, head down the road to Next Door Espresso, a short distance from our park for an amazing coffee, chai or hot chocolate as well as some yummy food! If you are feeling adventurous, hire one of our bikes (available from reception) for a half/full day hire and set your sights on cycling across the bridge into Coolangatta and enjoy a picnic in Queen Elizabeth Park, where every 2nd Sunday of the month you will find the Coolangatta Markets along the beachfront, perfect for a spot of shopping.
Click here to book your Tweed Heads winter getaway.
View our
blogs
, find us on
Facebook
and
Instagram
for updates!