Surfari Luxe at Kingscliff North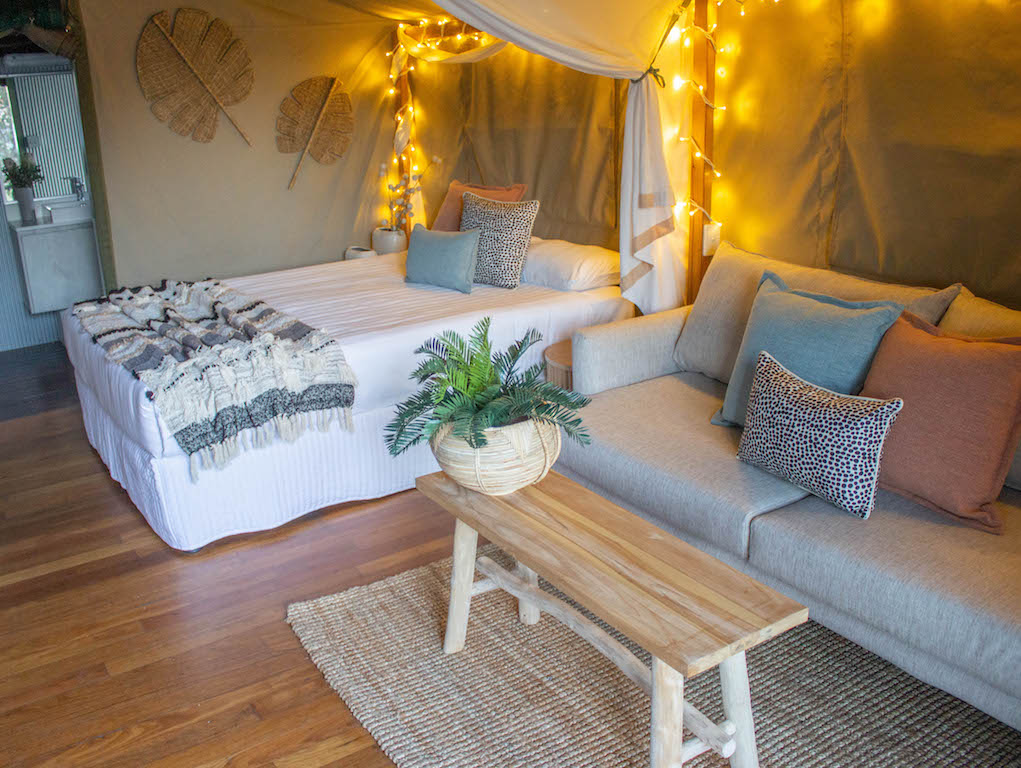 Welcome to our new Surfari Luxe Premium Tents at Kingscliff North, these new modern beauties sleep up to two guests and are the ultimate getaway for couples. They are situated beachfront and have a beautiful coastal vibe.
We've partnered up again with the amazing team at Tailored Space Interiors to create couples retreat at our Holiday Park. The Luxe features a comfortable queen bed, and lots of spots to lounge around - with a daybed inside and another large round daybed outside with a small table and two deck chairs.
We wanted to partially update these tents to appeal to the honeymooners/couple getaway market particularly.
The kitchen and bathroom had been previously updated however the rest of the tent was missing the mark. So we had some custom structures built around the bed and living areas to incorporate some fairy light features for mood lighting.
We had some storage and a bench seat custom made and along with custom cushions to really help create the vibe. We also introduced some jute in the rug and some raffia wall decor and some really cool bench seats as coffee tables. We then incorporated a more relaxed couple orientated feel into the outdoor furniture and had some fairy lights installed outside too to create the mood.
They are now equipped with lots of storage for you to put your toiletries, wardrobe and even store your baggage, and towels so that they are out of the way when not in use. There's a long table inside and also features a kitchenette, fridge, kettle, and microwave.
There also feature gorgeous white drapes so you can close the bedrooms off and the whole interior is fitted with beautiful fairy lights which really set the ambience.
There is a heater for the cooler months, and they actually trap quite a lot of heat in but are also prepared for the warmer months with lots of blinds that you can pull down to let the airflow through in.