Salty hair & sandy toes
We would like to say a big thank you to Caravan & camping with kids for the recent write up on our Fingal Head and Pottsville South parks.
"As I watch my kids tirelessly race each other to the shore breakers along the clean white sand at Fingal Head Beach, I realise that everything we need for the perfect family holiday is at our fingertips.
Tweed Holiday Parks offer seven perfectly situated parks that each harness the natural beauty of this idyllic location on the far North Coast of New South Wales. Visitors to the parks are offered every kind of attraction, from uncrowded beaches to world-renowned surf breaks as well as the crystal-clear rivers.
As we settle into the comforts of our Surfari tent for the night at Tweed Holiday Parks Fingal Head, the momentary break from our devices is giving our sun-kissed little ones a glimpse of what life on holidays was like for their old mum and dad. Sure, there may not have been fabulous glamping tents back then, but crawling into bed - spent from a day making the most of surfing, kayaking, fishing, swimming and snorkelling - while the breeze blowing against tarpaulin and nearby waves create the soundtrack for a blissful sleep, is not too distant a memory.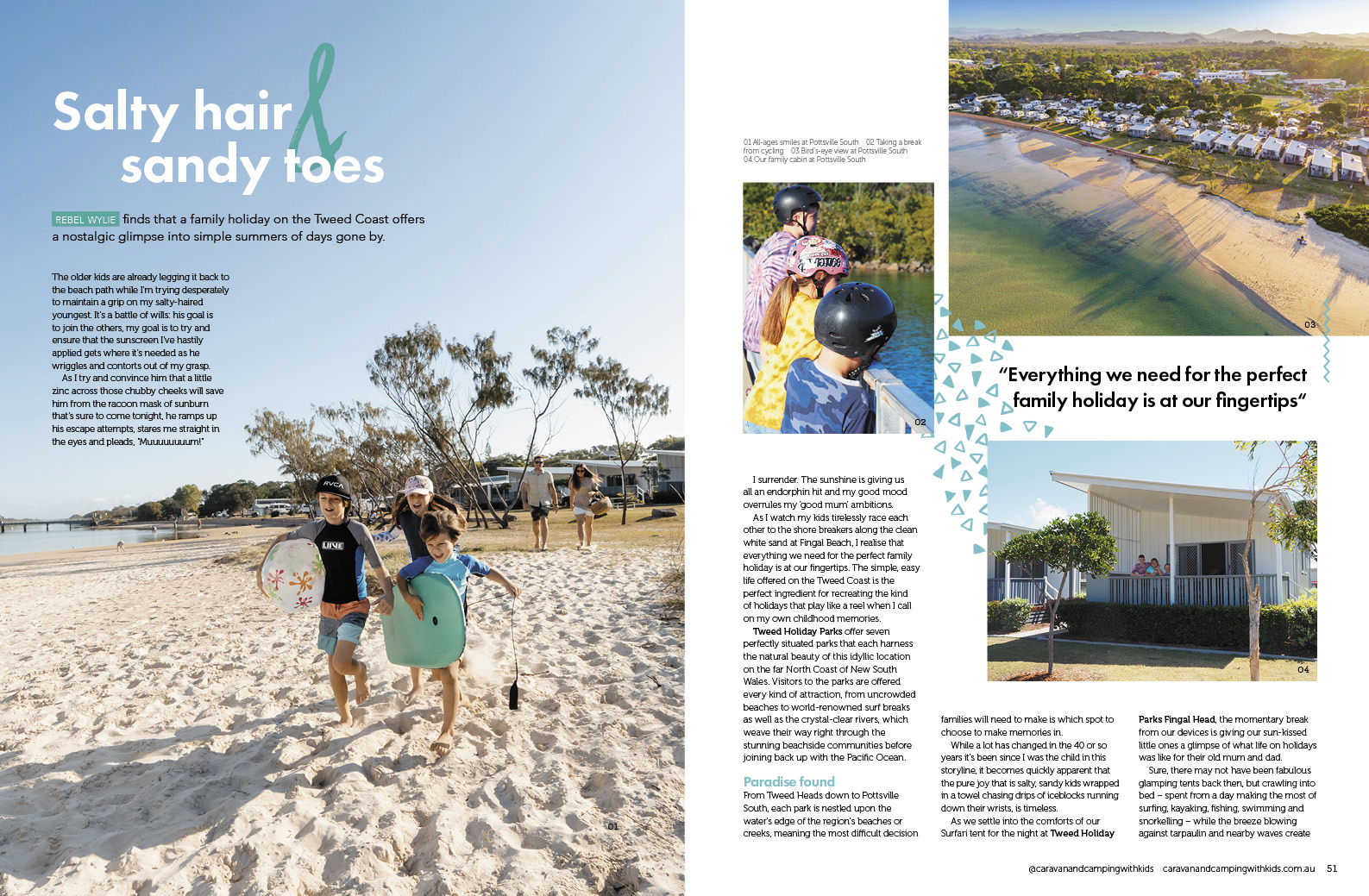 Every Tweed Holiday Park offers clean, well thought out and practical amenities, in addition to accommodation designed to suit every need, budget and occasion including waterfront cabins, Surfari tents and spacious tourist and tent sites.
Yet the major drawcard for families is undoubtedly the abundance of kid-friendly activities. From farm fun at Tropical Fruit World and surf schools for groms, to pottery at Kingscliff's Stone studio and a crab-catching adventure with Tweed eco cruises followed by waterslide fun at the Tweed Regional Aquatic Centre... there's no shortage of entertainment options for the young and young at heart.
It's day two and we're trying out Tweed Holiday Parks Pottsville South. When the kids make friends with a local pelican just metres from the cabin deck where my husband and I sit, enjoying coffee and cake from the nearby Pottsville Bakehouse."