How to do plastic-free camping at Tweed Holiday Parks
If you didn't already know, here at Tweed Holiday Parks, we are very passionate about being plastic-free and reducing waste at our parks and our nearby surrounding areas in The Tweed. Since our sustainability pledge launched in 2019 and our ongoing participation in Plastic Free July, we have been committed to environmental sustainability. We believe in preserving and protecting our communities and the environment, including recycling, reducing energy consumption, and protecting wildlife.
This July, we are encouraging visitors to our parks to camp plastic-free in light of Plastic Free July. Below we share with you some tips on how to plan ahead for plastic-free camping in one of our cabins, Surfari tents, campervans, or campsite to help keep our parks, oceans and The Tweed community cleaner. If you're looking for an eco-getaway, camping by the beach or river at one of our parks is indeed the greenway to go.
Whilst staying with us or planning your next getaway, we encourage you to share your top hacks on how your next trip will be plastic-free for the chance to win 1 of 5 Tweed Holiday Parks plastic-free packs. One lucky winner will also win a $250 Tweed Holiday Parks voucher to spend on your next stay. We've outlined all the details on how to enter below.
Borrow, hire or opt for pre-loved camping gear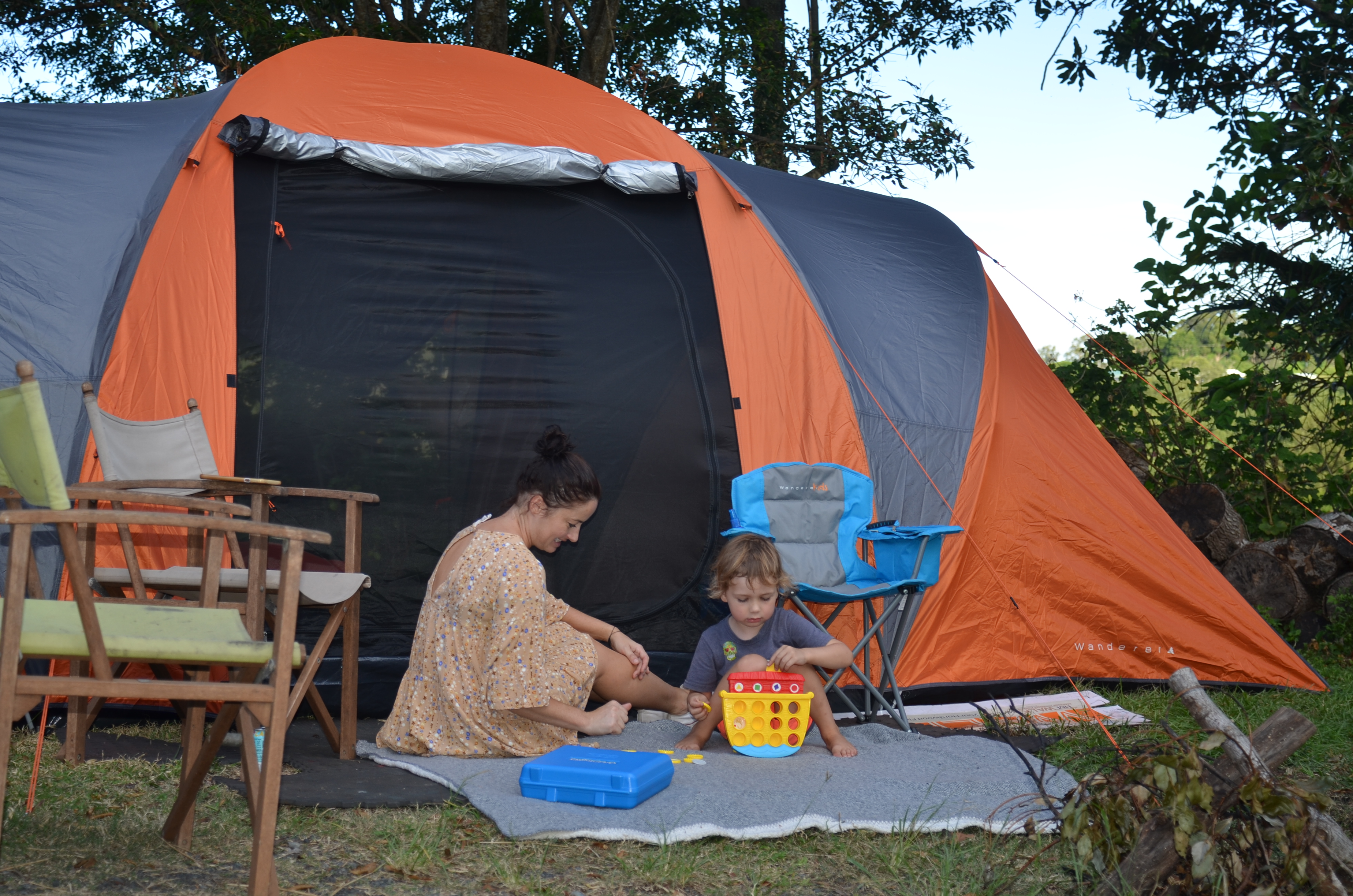 Borrowing, hiring, or opting for pre-loved camping gear is one of the best traditions of the outdoor world – it's a great way to save money and a good idea for sustainable camping. Based on supporting a sustainable lifestyle. reducing purchases of camping gear such as, tents, and reusing these items instead goes a long way.
Refuse, reuse, recycle
It may seem harder to stick by a plastic-free lifestyle when you're in your home-away-from-home. But, this isn't the case – all you need to do is think and plan ahead for your camping trip. A few simple steps can go a long way. If you prep and plan your meals and drinks ahead, you can avoid taking unnecessary plastic items away with you. Pack items in reusable containers, bags, a box or bucket, and beeswax wrap for your recycling, compost, or to store your food in. You can head to the supermarket in advance to find packaged free items and make sure that you pack your reusable water bottles, keep cups, reusable eating implements, cooking utensils, and plates rather than single-use ones.
DIY your own
DIY plastic-free ice blocks instead of purchasing plastic-bagged ice, use ice cream buckets (they tend to last longer), or water bottles (which you can drink when they eventually start to melt in your esky) and fill them with water and freezing the night before. That way your food will stay cooler for as long as possible. There are even a few nifty tricks like insulating your cooler, making sure it's air-tight in the shade, and adding a bit of saltwater to your ice blocks can make them last longer unless you want to drink the water later of course!
Camping with kids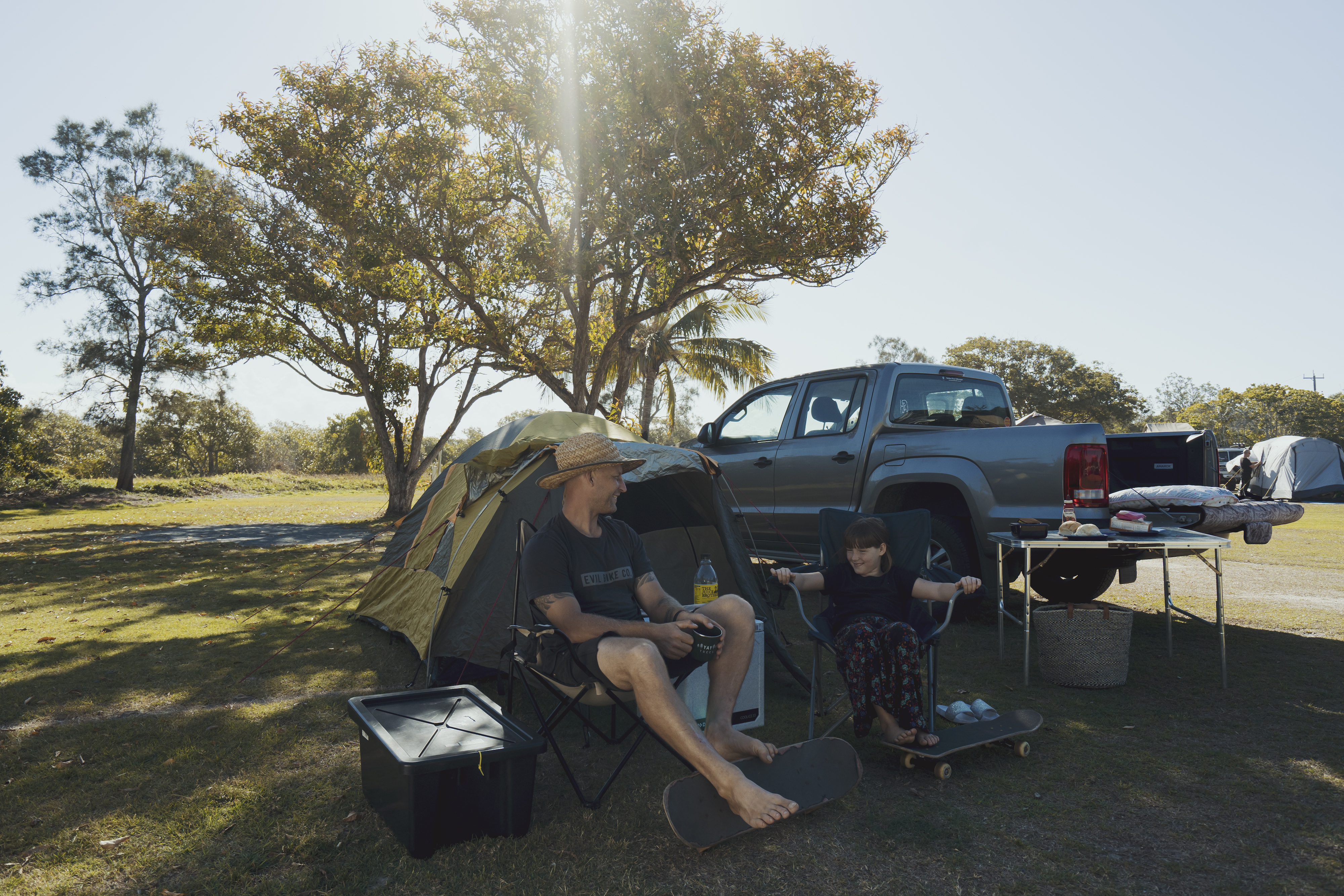 Taking items like wooden toys, paints, paper, and colouring pencils will keep your kids entertained rather than plastic items that can be more harmful than good is the way to go. With the outdoors at your fingertips, like the bush, river or beach at our campgrounds, there are options for your kids to get creative - – go on a scavenger hunt and get back to basics finding items like shells, rocks or spotting nearby birds like the Beach stone-Curlew.
Also, it's best to plan ahead especially when you're traveling with kids - so make sure you pack items like reusable cloth wipes (and if you have babies still in nappies – cloth nappies or reusable ones with a few good wet bags are doable if you don't have access to a machine nearby) – get creative.
Clean up your park and surrounding areas beautiful: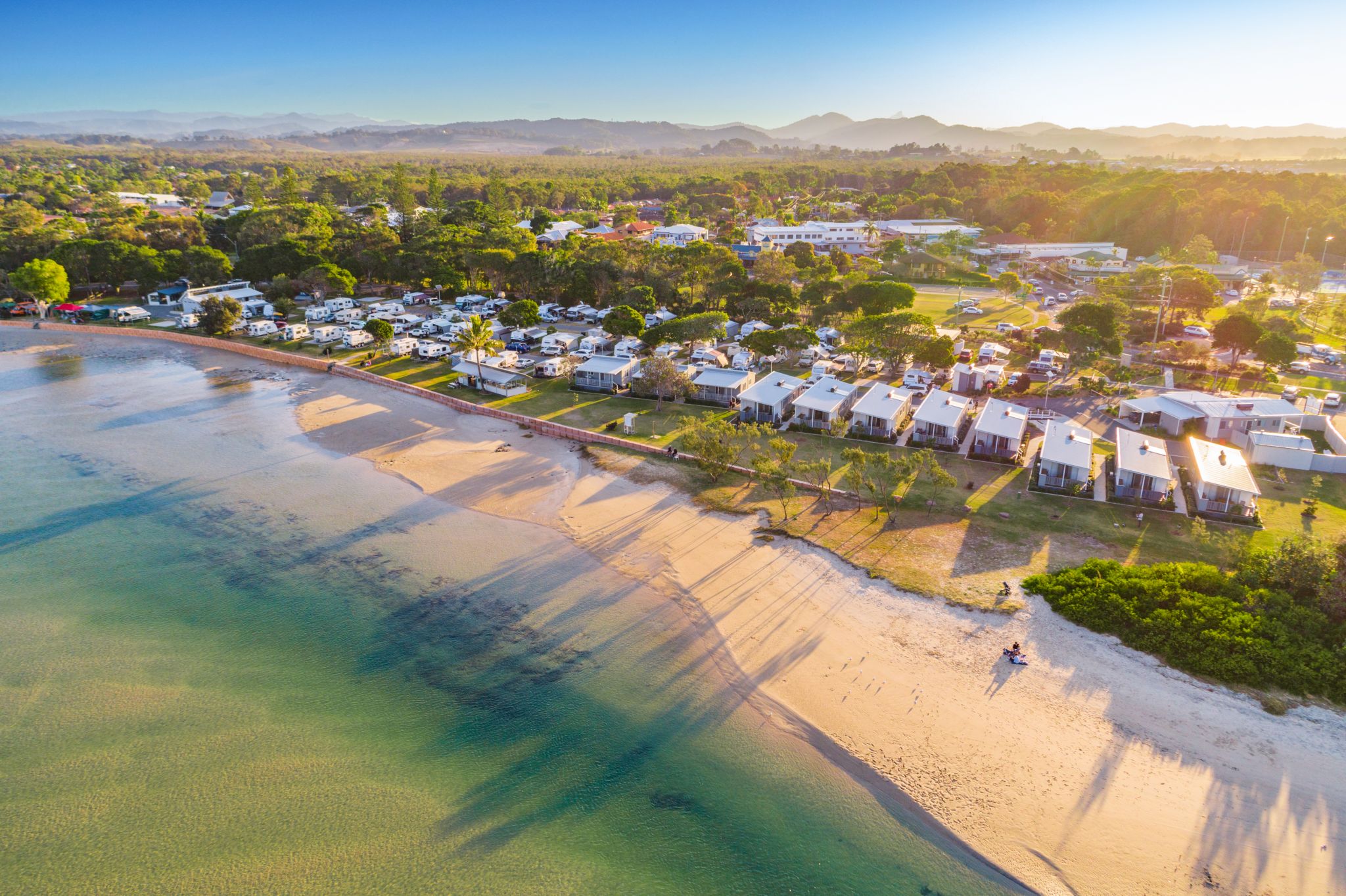 Cleaning camp, the park, and oceans while on your stay are essential for yourself, others, and the nearby wildlife. There should be minimal cleaning if you have planned ahead but bring bringing along a refillable bottle of dishwashing detergent or multipurpose sprays to keep surfaces clean to avoid pests at your campsite will be helpful. To help eliminate single-use plastic from our campsites and your life, we encourage you to take reusable bags* wherever you go and pick up rubbish to avoid getting it; in our oceans, upsetting sea life. Camping is a great way to get back to basics and enjoy nature with your friends and loved ones. And with some foresight, you can do it all by planning for your stay.
Be part of the solution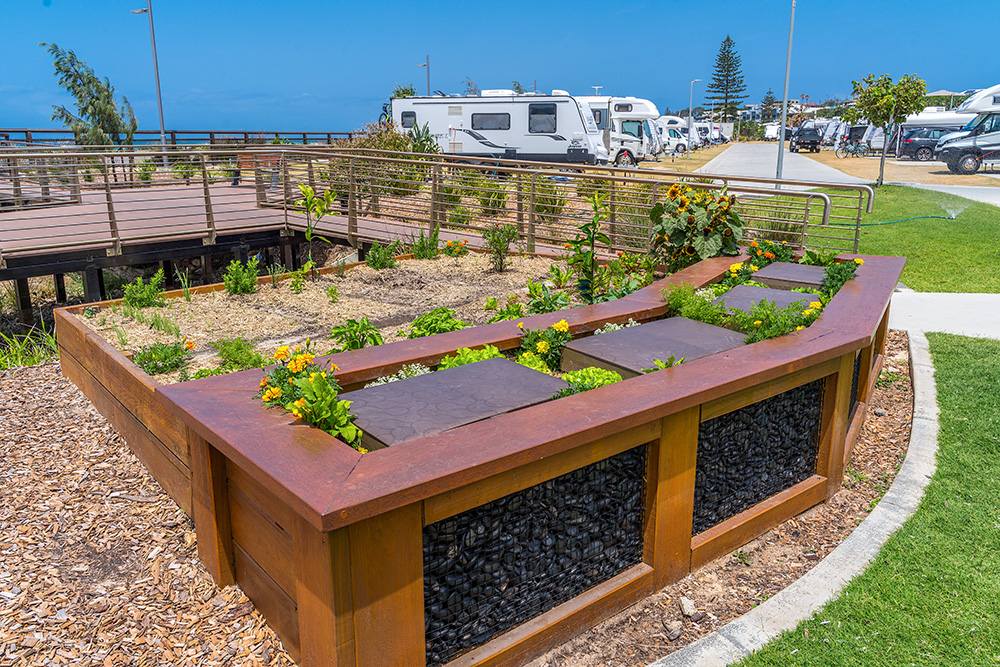 Did you know that at Tweed Holiday Parks Kingscliff Beach has a worm farm that helps reduce food in the landfill? Tweed Shire Council recently did a study within the shire, and it showed that 30% of waste in a red bin could have been put in a green bin and decomposed. At all our parks, we also provide an area for guests to recycle unwanted holiday purchases, e.g., buckets and spades, beach umbrellas, for use by future guests. We also offer different bins in all parks to separate general and recyclable waste produced by guests and staff – collected by contractors.
We also sell reusable items like tote bags and coffee cups for sale in our park reception areas (which is great in case you forget to pack your own)– this will help reduce single-use plastic. With so many cafes on The Tweed, most people ordering takeaway coffees in the restaurant's single-use coffee cups cannot be recycled and have to be discarded in the red bin. And you can take your tote bags to the nearby local farmer's markets as well for shopping.
SHARE WITH US
To celebrate Plastic Free July, we invite you to share with us your top hacks/tips on how your next camping trip will be plastic-free for the chance to win 1 of 5 Tweed Holiday Parks plastic-free packs. One lucky winner will also win a $250 Tweed Holiday Parks voucher* to spend on your next stay. It's easy to enter, all you need to do is to share photos of your plastic-free hacks with us on your social media channel and tag #tweedholidayparks and #plasticfreetweed - it's as easy as that!
Will you be part of plastic-free July and choose to refuse? Join the Plastic Free July challenge now! Follow us on our social channels for more tips throughout the month! The Plastic Free movement has inspired '326 million participants in 177 countries according to the plasticfreejuly.org stats.
*Terms & Conditions apply:
Details of the prize below form part of these Terms & Conditions. Participation in this promotion is deemed acceptance of these Terms & Conditions. Entry is open to Australian residents aged 18 years or over.
Entry into this competition is deemed acceptance of these terms and conditions
To receive one entry, individuals must follow Tweed Holiday Parks social pages and have shared a plastic-free camping hack photo with the following hashtags; #tweedholidayparks & #plasticfreetweed
Prize can only be used during off-peak periods within 12 months of being issued (subject to availability)
The prize is not redeemable for cash or in addition to packages
The winner will be notified via social media