Where to stay on the Tweed Coast
We know what you are thinking... "does this place even exist?"... but yes - it really does! If you haven't stayed at our Pottsville South park.... then we encourage you to book a stay – immediately and experience the best place to stay on the Tweed Coast.
Nestled along the banks of the stunning and calm waters of Mooball Creek and in the heart of the beachside town of Pottsville is Tweed Holiday Parks Pottsville South park. Known for its luxury waterfront cabins, spacious tourist sites and a view to die for... If you book a stay at this park you are guaranteed an unforgettable stay with an endless amount of fun to be had, both within the park grounds and in the stunning Mooball Creek that sits alongside the park.
Accommodation options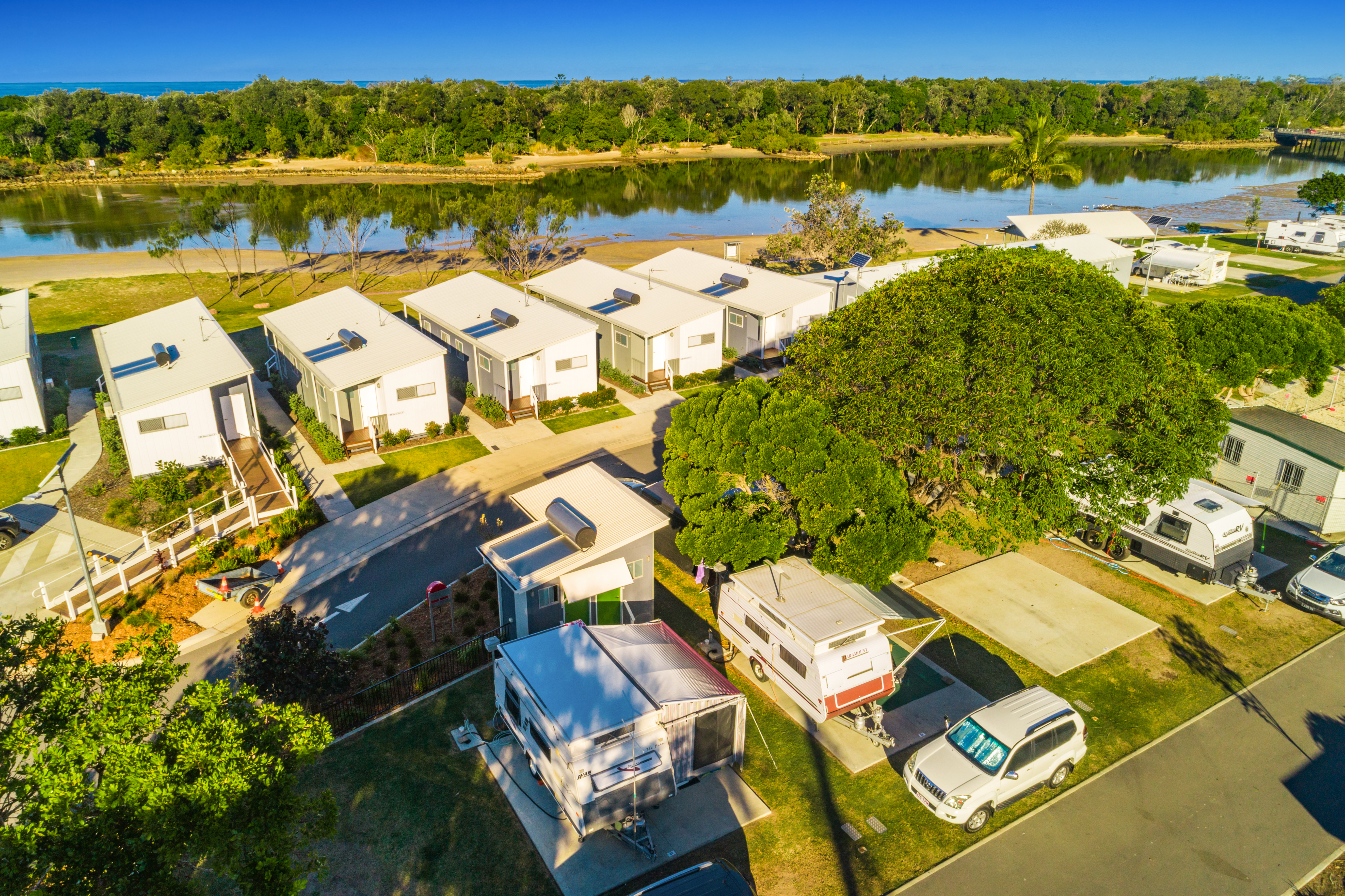 There are 11 cabins, which includes our accessible cabin, to choose from, each with luxury interiors, spacious open plan living area that features a full sized kitchen including a large refrigerator and a freestanding oven. The spacious living area is the perfect place to read a book, watch a movie or play board games with family and friends. These cabins can sleep 4 - 6 guests, the master bedroom has a large comfy queen-sized bed with an ensuite and the spare bedroom either consists of two single beds or bunk beds (depending on how many the cabin sleeps). Each cabins boasts a spacious outdoor area with suitable seating and uninterrupted views of Mooball Creek, these cabins are extremely popular with those looking for a relaxing getaway.
If luxury cabins are not your thing, there is a wide selection of tourist sites with water or park views to park up your "home away from home", you can even opt for an ensuite site for an added touch of luxury. Each site has either a concrete slab or synthetic grass with access to power, drinking water and sullage. Our sites are very popular with our guests due to the size of each site, there is plenty of room for your caravan, camper or tent as well as parking your vehicle.
Pottsville South's Facilities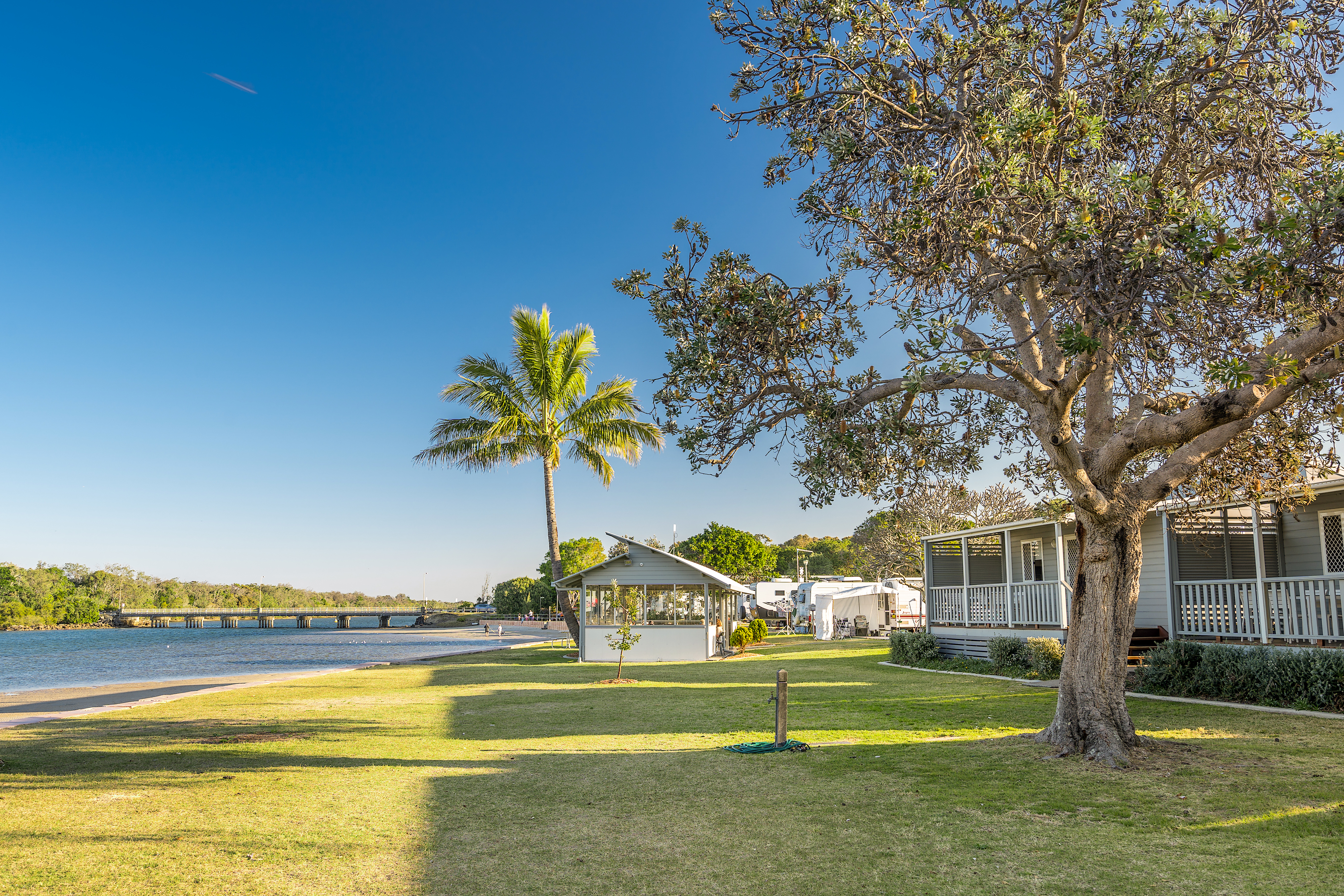 Our park's spacious lawn area is perfect for a friendly game of finska, cricket, catch, or football, this area is the best spot in the park to watch the morning sunrise or enjoy the afternoon light with a picnic and drinks.
There are many barbeque shelters throughout the park, as well as a camp kitchen at the southern end of the park. As the sun starts to set, the waterfront barbeque is a popular place with guests as they prep and cook up their afternoon dinner. With picnic tables located inside and outside of the sheltered barbeques – it is the perfect place to enjoy breakfast, lunch, dinner or a sunset drink whilst taking in the breathtaking view.
If you are holidaying with a loved one who has a physical disability, our park is home to a beach wheelchair which was funded by Tweed Shire Council in 2019. This wheelchair has special balloon tyres which makes it easier for people with impeded mobility can enjoy time at the beach or Creekside. Accessing this wheelchair is free, but needs to be booked through the park or the council as this chair is available to park guests, locals and other holidaymakers in the area.
Things to do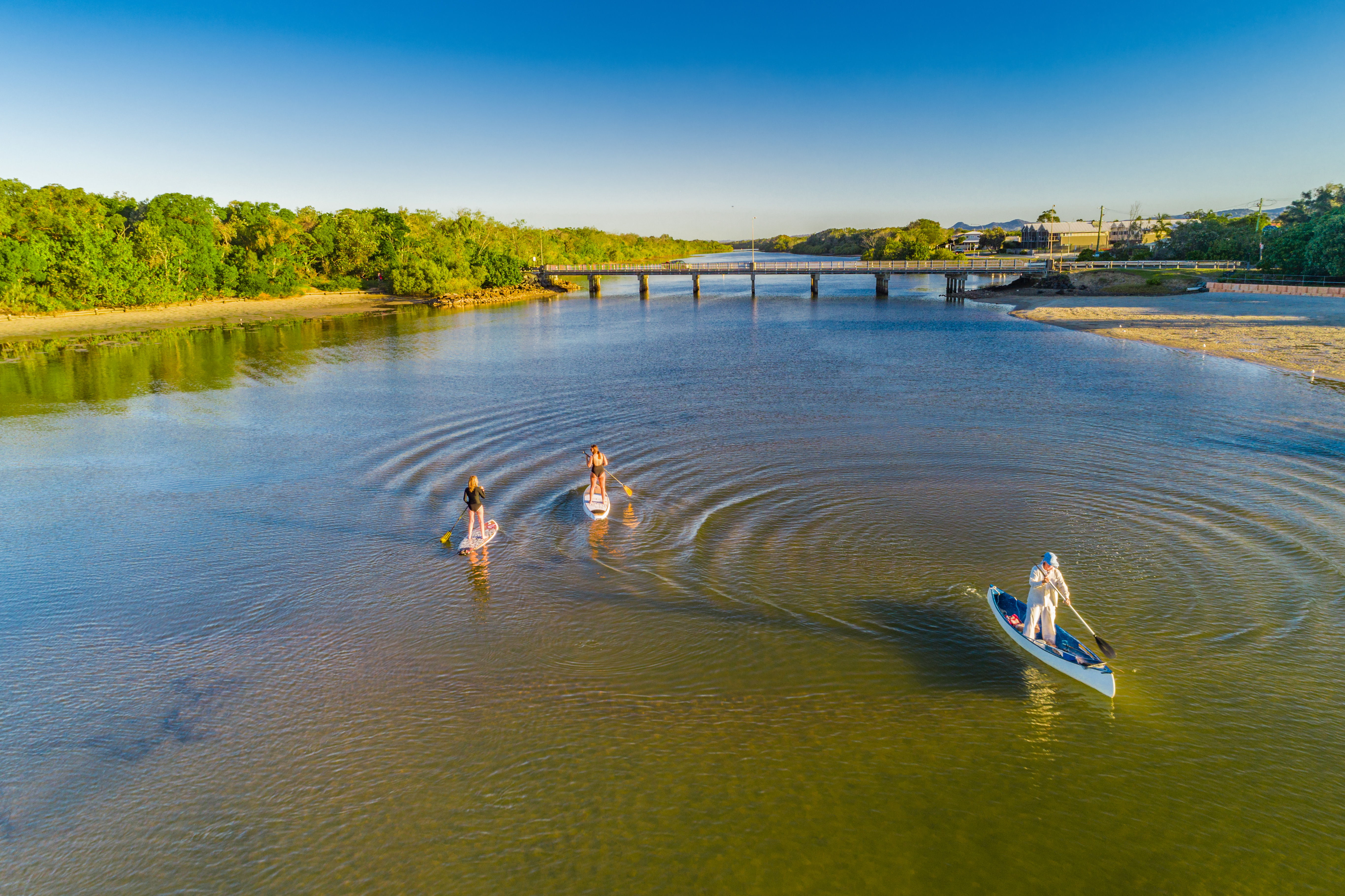 There's so much to do in and around Pottsville. Mooball Creek alone is a haven for those that love to participate in water activities, both in and on the water. During the summer months, the creek becomes a second home to holidays makers – it is the perfect place to make a splash and cool off, spot some marine life whilst snorkelling along the bank edges or hiring a kayak or SUP from a local provider to explore the many side streams that branch off from the creek.
Follow the short beach track, (located just outside of the park at the northern end), until you are greeted at the end by Pottsville Beach. A stunning white sandy beach that offers endless hours of water activities such as fishing, surfing, swimming... just to name a few. The kilometres of white sand attracts those that love long walks down the beach. If you are a keen walker, continue walking north and you will arrive at Hastings Point Headland, which offers a great advantage point to spot the migrating Humpback Whales.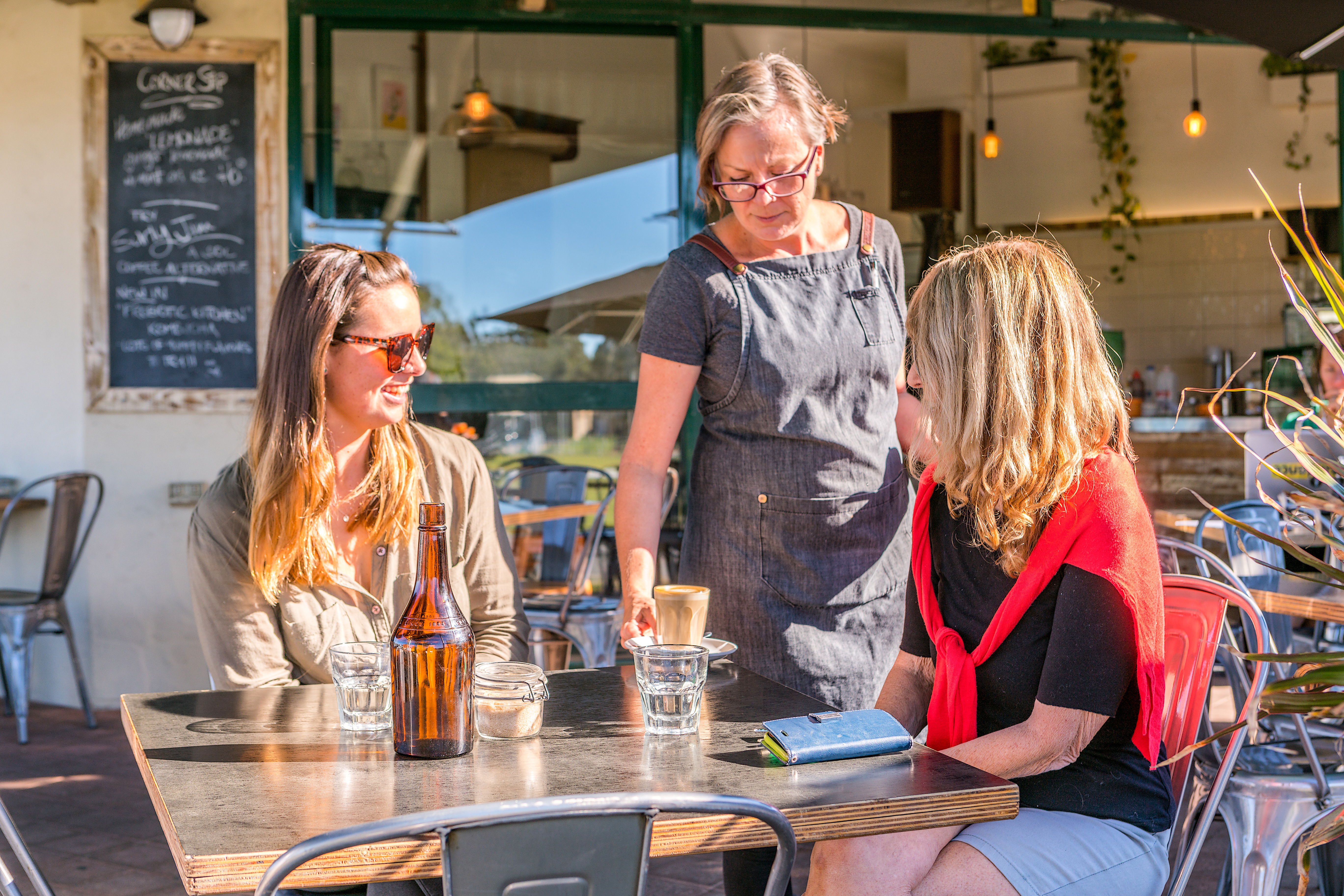 Being located right next to Pottsville's town centre is an attractive quality to park guests, holidaying in the heart of Pottsville offers easy access to grocery and liquor stores, as well as cafes, restaurants and bars for breakfast, lunch, dinner or evening drinks to celebrate a special occasion or watch the sun go down. As well as the many eateries that call Pottsville home, checking out the many small boutique clothing and gift stores is a must and are the perfect stores to pick up a present for loved ones back home.
Book your stay at Tweed Holiday Parks Pottsville South and experience the magic of The Tweed.