Spanish Eggs Recipe
Let's face it... we are all drooling looking at these images!
If you are in search of a winter breakfast recipe that will warm you up on a cold winters day, then we think we have found the perfect recipe!
You can't go wrong with this Spanish eggs recipe which consists of eggs poached in a rich and spicy sauce and can be served with flatbread or sourdough toast. This recipe uses sausages as a form of protein, but you can use kidney beans or a bean mix as a replacement.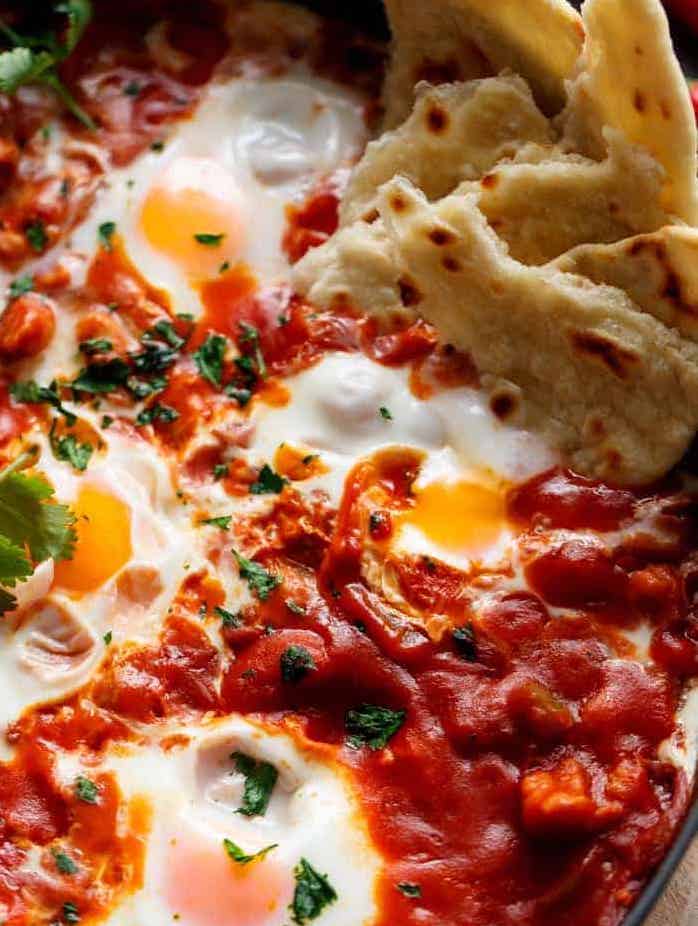 Ingredients:
1 tbsp olive oil
1 onion
2 large garlic cloves, crushed
1 red capsicum, deseeded and diced
250g lean sausages of your choice, casings removed
1 tsp ground cumin
1 tsp sweet paprika
3/4 - 1 tsp chilli powder
Pinch of cayenne (optional)
2 x 400g whole peeled tomatoes, roughly chopped
2 tbsp tomato paste
Salt to taste
6 large eggs
1/4 cup chopped flat-leaf parsley to serve
Flatbread, to serve (optional)
Method:
Heat oil in a large non-stick pan or skillet over medium heat. Add onion and cook, stirring occasionally, until soft and transparent. Add garlic, capsicum, ground sausage, cumin, paprika and chilli; cook, stirring occasionally until garlic is soft and fragrant.
Add tomatoes and their juice into the pan with the tomato paste. Reduce heat to low and allow to simmer, stirring occasionally, until slightly thickened (approx. 10 - 15 mins). Season with salt to taste.
Evenly distribute small indents into the sauce with a spoon and crack each egg into them. Cover the pan with a lid and cook until yolks are just set (approx. 5 mins). Using a spoon, baste the whites of the eggs with the tomato sauce, being careful not to disturb the yolk. Sprinkle with parsley and serve with flatbread, for dipping.
Recipe and Image credit: Cafe Delites.