Top ten places to dine on The Tweed
The Tweed is a popular destination for holiday makers craving a relaxing coastal getaway. While it is best known for expanses of white sandy beaches and a plethora of hinterland trails to explore, it should come as no surprise that the culinary offerings of the Tweed Coast are fast becoming one of the regions' draw cards. Leave the pots and pans at home and see what the top ten restaurateurs of The Tweed have to offer.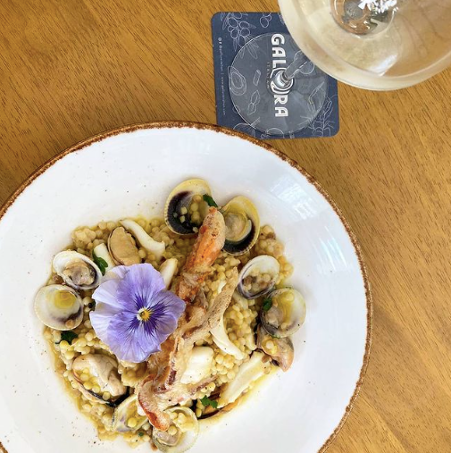 Gallura's Fregola - NZ Vongole, Spring Bay Mussels, SA Cuttlefish & local Softshell Crab w- fresh Zucchini Flowers.
Relatively new, Gallura Italian is 'Where Italy meets the sea'. While conveniently located in Tweed Heads just 5 minutes from Tweed Holiday Parks Tweed Heads, the food at Gallura will transport you straight to the pristine coastline of Sardinia. The menu is abundant with seafood offerings from Char Grilled Local Octopus, Grilled Scampi alla Catalana to Spanner Crab and King Prawn Raviolini. There is a generous dessert menu featuring House Profiterole filled with Passionfruit Sorbetto, Fresh Cream and White Chocolate Coulis or if you're almost filled to the brim, how about a simple affogato featuring local macadamia and wattle seed liqueur made by Cape Byron Distillery? Since opening Gallura has received glowing reviews for their exceptional menu, wine pairings and service.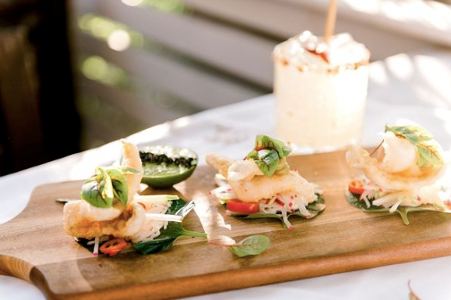 Betal leaf 'tacos' with tempura fish + green papaya. Perfect pairing to a kaffir lime and chilli margarita.
If you have visited the Tweed Coast before you may be familiar with Fins Bar and Restaurant, Australia's iconic, most awarded regional seafood restaurant that has been serving up local produce for over 23 years. Fins are located in South Kingscliff, less than ten minutes south of Tweed Holiday Parks Kingscliff Beach. They are acclaimed for their fresh and sustainable menu with their most noteworthy dish being Spicy South Indian sour fish sambal with octopus, mussels, lime, chilli and spices served with lotus leaf wrapped rice and green papaya salad. From start to finish the menu is bursting with flavours that can be perfectly balanced with either a tasting flight or cocktail from the Fins Gin Bar. There is a tapas-style bar menu, takeaway offerings, while seasonal roasts and cook ups are available at Fins Plantation House in Duranbah.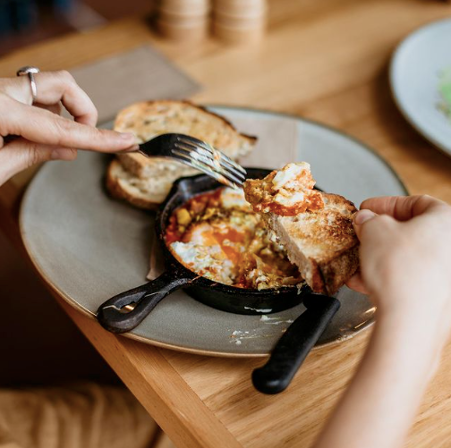 Baked eggs in a spicy peperonata, macadamia dukkah, goats feta and sourdough.
Black Drop Café is a little hole in the wall located in Pottsville, just a short stroll from Tweed Holiday Parks Pottsville South. Best known for their impeccable coffee, generous breakfast servings and friendly staff. The menu features a humble breaky roll all the way to an asparagus and provolone dolce omelette, with spring herbs salad served on Bread Social Sourdough. Black Drop has recently moved beyond just breakfast to now offer pop ups known as 'Black Drop Bistro' a five-course set menu for $75 pp. The menu is refreshed for each pop up but is always brimming with local produce that pair beautifully with the selection of beers and natural wines on offer.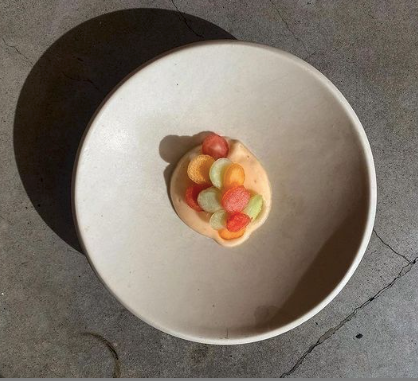 Fresh melons with lemon balm, sour rockmelon sauce and brown rice amazake sorbet.
If a seven-course tasting menu makes you feel weak at the knees, look no further than Pipit. The menus are designed to deliver the most delectable array of seasonal produce prepared in the most innovative fashion. The chefs will take your palette on a journey through The Tweed with dishes like Sorghum tart with fresh cheese and leather jacket roe and roasted duck breast with blackened Davidson plum and beetroot. Their signature cocktail named after their town is the ideal accompaniment for the rich flavours; 'Pottsville'- starward whiskey/house red muscat vermouth/house blackened pear liqueur.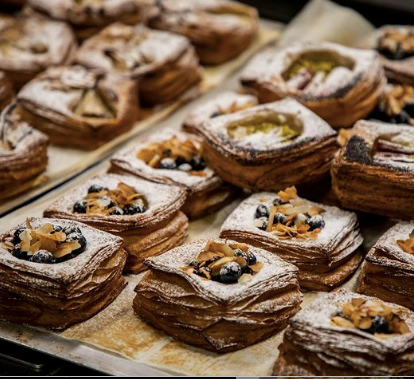 Freshly baked blueberry and almond or pistachio and rhubarb danishes.
There is no better time to be an early bird than when The Bread Social opens their doors and the smell of freshly baked bread and croissants escapes onto Bay Street, Tweed Heads. Exceptional coffee, a wall of artisanal sourdoughs and pies worth writing home about are just a few reasons to add this little gem to the top of your list. Choosing a favourite offering is like choosing between your children but their Portuguese Custard Tart, Braised Beef Pie and Fruit and Nut Sourdough should make your short list, you won't be disappointed.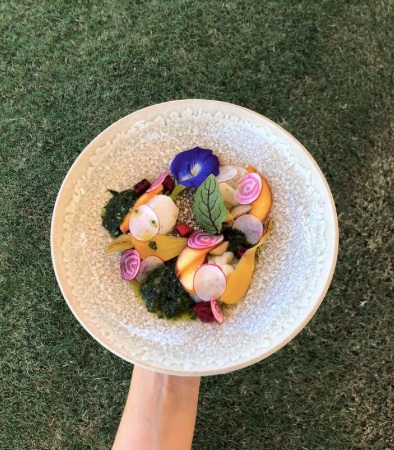 Pickled scallops with lilly pilly, dragon fruit and peach.
Husk Distillers are producers of Agricole rum that celebrates the unique terroir of the Tweed Coast. Their rum, unlike 98% of rum produced in Australia, is created with the sugar cane grown on the property. They are also the producers of the iconic violet coloured Ink Gin. Learn the art of distillation and the family story with a distillery tour or indulge in a tasting flight and cocktail on the grounds overlooking Wollumbin (Mt Warning). Husk offer patio, bar top or picnic rug dining with a menu that encourages grazing, think cheese boards, smoked olives, jerk chicken skewers with chimichurri and house made dips with pita. The menu is seasonal and pairs beautifully with their Husk Rum and Botanical tasting paddles. Husk Distillers is the ideal location to relax with a few friends and treat yourself to a bespoke cocktail such as a 'Botanic at the Disco' featuring Husk Botanic, Grapefruit liqueur, passionfruit syrup, lime and aqua faba.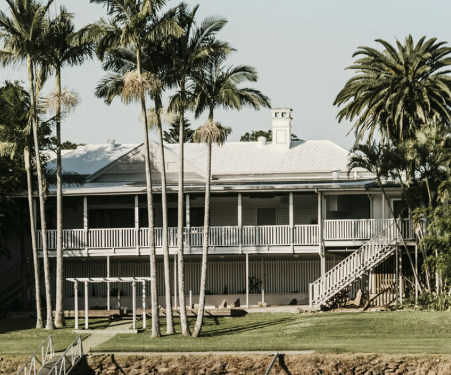 The stunning Queenslander set beside the upper reaches of the Tweed River in Murwillumbah.
The newest kid on the block, Tweed River House opened their doors in September 2021 but are already gaining a stellar reputation for their flavoursome menu and faultless service. The â la carte menu is a divine display of the region's produce, however, the five-course tasting menu is a must featuring Hervey Bay scallops, Australian Bay lobster, Drake Creek duck, McAuley's Road beef rump and native citrus honey cake. Paired with a Tweed River House Spritz, the experience will be the highlight of your trip to The Tweed.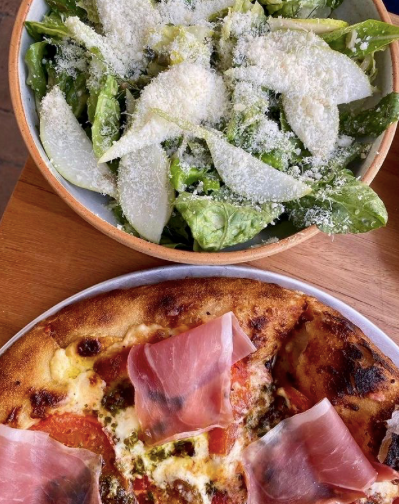 The dynamic duo:'Water Baby' salad paired with the 'Coopers Shoot' pizza.
Jordy's in Casurina is one of those venues you can visit multiple times in one holiday and never tire of their menu. They combine sourdough crust pizzas named for the towns in the region with fresh salads and margarita's that make your mouth water. There is a pizza for every taste but the Fruits and Fromaggi starter should not be overlooked and is the perfect share plate while you wait for your mains. Dessert lovers must leave room for Jordy's Tiramisu, it will rival that of any respectable Nonna!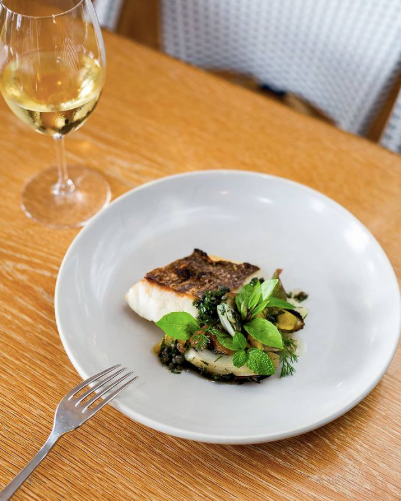 Coal roasted snapper, grilled fennel, citrus salmoriglio.
Within Cabarita's boutique accommodation Halycon House lies Paper Daisy, an exquisitely decorated restaurant where the quality of the food matches the level of design. Paper Daisy was awarded Australian Wine List of the Year in both 2019 and 2020 so their staff take great care in providing the perfect pairing for each dish on their menu. You cannot visit without sampling the Yellowfin tuna and spiced yuzu tart and the Riverina lamb rump with grilled turnip, green olive and garden leaves. The menu does change seasonally so cross your fingers that the stars align, and their famous prawns are available when you choose to visit.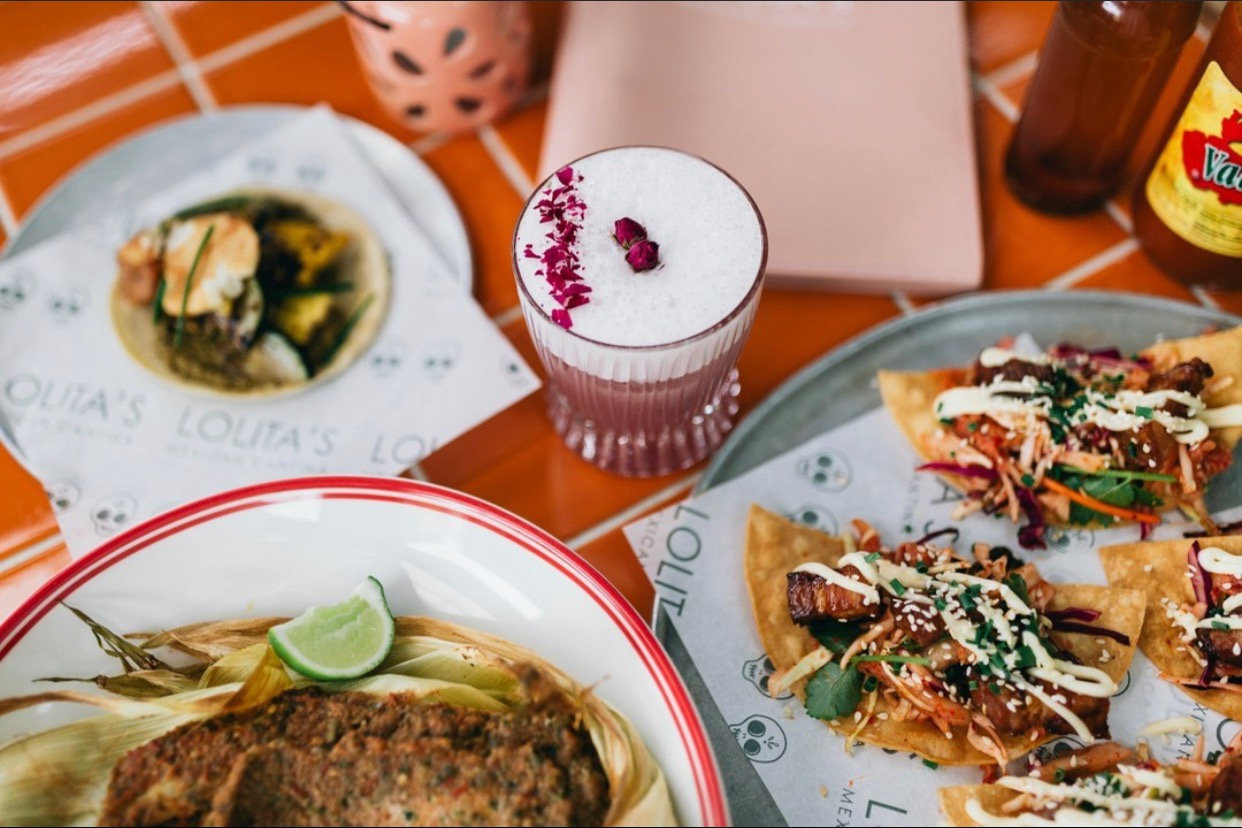 Pork belly tostadas with a slow gin sour.
Tucked away in Casurina is some of the most mouth-watering Mexican the Tweed Coast has to offer. Head Chef Armando Icaza is committed to showcasing his Mexican origins in a fun and accessible way, using traditional techniques and local produce. The standout dishes are the charred corn with smoked jalapeño butter, ricotta salata and lime, the kingfish tostadas, and the 'el pastor' slow cooked pork taco with roasted pineapple and avocado. Dine in and indulge in the impressive cocktail menu or grab takeaway and enjoy a Mexican feast by the ocean.
Image Credit: 1. @galluraitalian 2. @finsrestaurant 3. @black_drop_cafe 4. @pipitrestaurant 5. @thebreadsocial 6. @huskdistillery 7. tweedriverhouse.com.au 8. @jordys.casurina 9. Paper Daisy Cabarita 10. Lolitas_cantina