View from above
If you are visiting The Tweed over the next 4 weeks it will be almost impossible to miss the giant Ferris wheel at Jack Evans Boat Harbour. During the day the beautiful structure attracts your eye in the natural light, then at night, it comes alive as the wheel spins. The bright gondolas create a hypnotic sense of excitement as they light up the sky.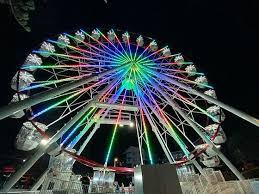 Whether you're young, or young at heart, a trip to any fairground is not complete without a ride on the Ferris Wheel, and until the 17th July you can relive the nostalgia right here on the Tweed.
Hop aboard the 35-metre-tall wheel and experience 360-degree views of the magical Tweed coastline. Each of the 24 gondolas, including a fully accessible gondola seats up to 6 people.
The giant wheel is open everyday from 21 June – 17 July 10am – 9pm and is only a short drive from our 7 holiday parks.
You can book tickets here, or purchase your tickets at the wheel.