Supporting our local Osprey community
Earlier this month, our Hastings Point Holiday Park became home to a new nest cradle for the stunning Eastern Osprey wildlife, just in time for their breeding season.
We are passionate and are committed to environmental sustainability, and preserving and protecting our environment and precious wildlife. We are extremely fortunate to have the opportunity to work with Tweed Shire Council to help out some of the Tweeds most loved locals - our local Osprey community.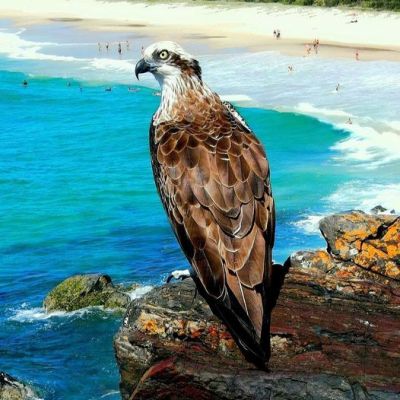 Ospreys in the Tweed rely on artificial nests to breed and raise their young. The original osprey nest above Hastings Point bridge collapsed in late 2021. The nest was built on a timber platform and had been there for many years. Our friends at the Tweed Shire Council installed a new pole and nest cradle for the osprey at Hastings Point Holiday Park in 2022 however, before this work could be completed, the birds rebuilt their nest on the old pole on the bridge.
They were successful in breeding in this nest but our local Osprey experts were concerned the existing bridge nest was unstable, as it was poorly supported by old timbers with little surface area, which was a risk to eggs and chicks. There was also a risk the nest material could fall onto the footpath.
The cross beams on the old pole at the bridge were removed, to ensure the birds can no longer nest unsafely in this location. The mission was successful, the nest material was carefully transferred to the new nest cradle and it's good news - the birds have relocated and are looking comfortably set up in their new 'room with a view'.
Photo Credit: Sally Hinton; John (local resident from Tweed Heads);Aleise L.